The trend of moving from college quarterback to professional wide receiver is not a new one. Over the past two decades, several players have made the switch, including Hines Ward, Antwaan Randle El and Randall Cobb.
The thinking often is that an athletic player can serve a greater benefit to the team running routes than they would be standing in the pocket. At the same time, a player who used to be a quarterback will have a strong understanding of passing games, so the transition to wide receiver will be a seamless one.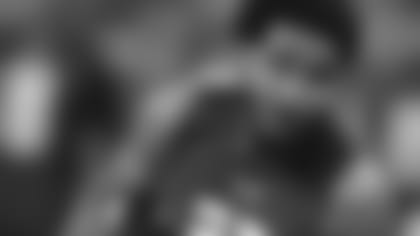 Ohio State's Braxton Miller runs a drill at the NFL Combine in Indianapolis.
Ohio State's Braxton Miller is the most recent example of someone putting that theory to the test. Miller was the Buckeyes' starting quarterback from 2011 to 2013, winning Big Ten Offensive Player of the Year twice in that span. During those three years, he threw for 52 touchdowns and ran for 33 more, proving to be as dangerous with his legs as he was with his arm.
In 2014, however, Miller suffered a shoulder injury in fall camp and missed the entire season. Ohio State went on to win the National Championship despite his absence, so Miller moved to wideout for the '15 campaign. In his senior year, but his first playing the new position, he caught 26 passes for 341 yards and three touchdowns.
Now he's entering the NFL, hoping to build off the momentum of his one year at receiver. Miller clearly has the athletic skills, but must show he's refined enough at the position to play it at a high level if a team will use a top draft choice on him.
"There's a lot of things you have to prepare yourself for going to the next level. It's not about who's the fastest or the strongest. It's about perfecting the receiver position," Miller said this week from Indianapolis. "There's a lot that goes into it. I've been doing my homework. It's not about athleticism. It's not about speed. It's not about strength."
On Saturday, Miller went through the on-field drills with the other receivers, and showed the type of athlete he is. He ran the 40-yard dash in 4.50 seconds and jumped 35 inches in the vertical leap. His time in the 60-yard shuttle—10.84 seconds—was the fastest among any player at the position.
"This is what I've prepared myself for," Miller said. "I don't want to back down from nothing. I want to do it all. I might do extra, I don't know. Whatever they ask, I'm going to do."
Miller may be new to the position of wide receiver, but his potential alone may warrant an early selection from a team that feels he can make the complete switch over from quarterback.
Cornerbacks, safeties in demand
Finding talented defensive backs is one of the toughest—yet most vital tasks—an NFL evaluator has. Because passing games have become so prolific around the NFL, locating and drafting skilled cornerbacks and safeties to stop quarterbacks and wide receivers has increased in importance. A good secondary can help hide several other deficiencies a team may have, but acquiring one is often easier said than done.
Recently, teams across the league have started to invest some serious resources into improving their secondary. In the past three drafts, 151 players listed as either a cornerback or safety were selected. Of those, 21 were first-round picks, as clubs recognize how valuable those positions can be to a team's overall success.
This year, it is expected that a few more defensive backs will be added to the list of high draft choices. There are several talented prospects at those positions, including Florida cornerback Vernon Hargreaves. An All-SEC player in each of his three seasons with the Gators, Hargreaves said on Saturday that his experience facing tough opponents on the college will help him in the pros.
"Playing in the SEC, I've covered Amari Cooper, I've covered Odell Beckham, I've covered Jarvis Landry, Kelvin Benjamin," Hargreaves said. "I've seen them all before. That's not to say that I'm ready necessarily, but it definitely helps to have covered them before, to have tracked them before. In the NFL you can't put your hands on them so I'll definitely have to work on my technique, but that's how I approached my junior season. You can't touch them 10 yards down the field like you could in college so I worked on keeping my hands off guys."
Given the value NFL teams are placing on shutdown corners and secondary play as a whole, it would be no surprise to see Hargreaves' name added to the list of players at the position drafted in the first round.