Bears general manager Ryan Pace discussed several key topics in an interview with Jeff Joniak Sunday morning on the WBBM Newsradio 780 AM and 105.9 FM pregame show.
On Jay Cutler returning from his shoulder injury:
"The one thing I appreciate about Jay—I think we all do—is that he's extremely tough and it's hard to ever count him out. I think he's shown throughout his career that he can respond pretty quickly to an injury."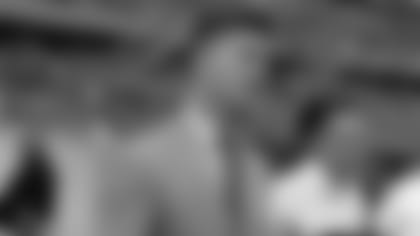 Bears general manager Ryan Pace before a home game earlier this season.


On replacement Matt Barkley:
"The benefit of this week in practice is that he's really got all the first-team reps. I think that's going to help him. It's going to help him physically. It's going to help his confidence. Barkley's a guy we've had our eye on for a while and we were able to get him after the preseason and I think he's gotten better each week of the season kind of behind the scenes, so I'm anxious to see if he gets the opportunity how he'll perform."
On the Bears being decimated by injuries:
"We've obviously had a lot of injuries and that's unfortunate. But I think that's one of the reasons that building your roster the right way and establishing your depth is critical, and your depth gets challenged in these situations. Going forward it's going to be important that we build depth."
On being emboldened by the idea that all the injuries this year are a rare occurrence:
"I definitely hope we're getting it all out of the way now. Sometimes you feel the ball bounces your way and sometimes it doesn't. But honestly a lot of these things are things we can't predict and you never know how it's going to play out. Unfortunately, injuries are part of our game. But it's really not limited to us. Other teams are dealing with them too. But once again I think it just emphasizes the importance of your depth and as we go forward we've just got to build our roster and stack up on depth and be better equipped to handle these situations."
On whether it changes how scouts look at talent around the league:
"The way we evaluate talent is always going to pretty much stay the same. Champ Kelly and the pro scouts do an excellent job. But we're always talking about durability and looking at their injury history going back to college and in the pros. The most important trait is availability and when we talk about players and their durability history, that's important. But it's no different than we've always done it and it will always be a focus for us."
On whether Nick Kwiatkoski is ready to fill the demands at inside linebacker with Jerrell Freeman beginning his suspension:
"I think he is. The silver lining to this season has been the chance to develop our younger players. For example, I think today we're going to have 10-12 starters that are either rookies or second-year players. That's a lot of young talent playing out there and with Nick I think he'll only grow from this experience. It's going to be hard to fill Jerrell's shoes. I think Jerrell is playing very well. He's third in the NFL in solo tackles. So he's been a very productive player for us. But that being said, I'm excited to see Nick play. I think this will help his progress.
On what rookie safety Deon Bush does well:
"He triggers fast. So he reacts fast. I think he's got really good burst and range to close on the ball. He spends a lot of extra time at the facility. I appreciate that; just preparing himself getting ready to go. The more guys we can add with that kind of attitude, the better we're going to be, and I'm talking about guys that are passionate about playing football and put all the time into it like he does. This rookie class is really tight and they're here all the time, just working hard to master their craft and I really value that."
On today's opponent, Titans quarterback Marcus Mariota:
"He's definitely one of the more talented young quarterbacks in the league. He's definitely an ascending player and you can see this guy gaining confidence with each game. What jumps out about him is the combination of arm talent and athleticism. That athleticism opens up some things in their offense because of the fact that he's such a running threat. He's a good player. He's got great makeup, great intangibles and we need to prevent him from getting into a rhythm today."