Meeting with the media Monday at Halas Hall, Bears general manager Ryan Pace reflected on the 2015 season and discussed plans to upgrade the roster during the offseason.
The Bears went 6-10 in Pace's first year with the team, with six of their final seven losses coming by margins of 3, 3, 2, 6, 3 and 4 points, including two in overtime.
"I have mixed emotions on the season," said Pace, who addressed the media alongside coach John Fox. "The record is frustrating. The close losses are frustrating. Those can kind of give you some sleepless nights. But then when I think bigger picture, I'm excited about what we've got going here.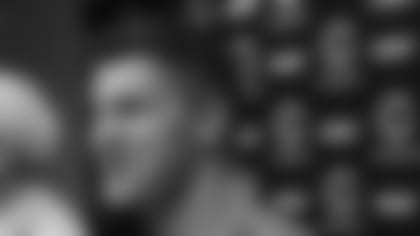 Bears general manager Ryan Pace reflected on the 2015 season with the media.


"I'm excited about our staff. I'm excited about our younger players. I'm excited about our culture, kind of the foundation of what we have. The whole building really feels like everything is going up, and that's a genuine, sincere feeling, so I'm excited about that."
After a full season on the job, Pace has a firm grasp of the Bears roster and is confident that he'll be able to add more players who possess the traits he's seeking.
"We've got to finish close games and play with better consistency going forward," Pace said. "The good thing is we were able to learn a lot about our team in our first season together. I think that experience is only going to help our decision-making going forward.
"There are a lot of positives as we continue to build. We worked hard on adjusting and tweaking the roster throughout the season to better the culture, and I think you've seen that. We're always going to have a focus on intelligent players, tough players, passionate and good teammates. That's always going to be the case."
Pace was pleased with the job that Fox and his staff did in their first season and intends to provide them with more impact players moving forward. The Bears have ample room under the salary cap and nine picks in the 2016 NFL Draft.
"Heading into the season I thought our coaching staff was a strength and I think that proved to be true," Pace said. "Now it's up to us to make the right personnel decisions this offseason and we need to add talent to our roster. We need to add more playmakers to help us finish close games and we'll do that.
"Fortunately, we've got a lot of different avenues to accomplish that. We're got a healthy salary cap. We've got extra draft picks. So we've got an exciting offseason ahead of us."
Beginning Tuesday, Pace will lead the personnel department in a thorough evaluation of the Bears roster, which includes 18 players who are set to become unrestricted free agents. The group includes running back Matt Forte and receiver Alshon Jeffery.
"I think the start of a good offseason is accurately evaluating your own team," Pace said. "From there, we'll put our offseason plan in place. It's going to be fluid as you guys know. We'll be aggressive, and again, it's a big offseason."
The Bears spread their resources in free agency last year, signing several veterans to one-year contracts, including cornerbacks Tracy Porter and Alan Ball, outside linebacker Sam Acho, defensive end Jarvis Jenkins, guard Vladimir Ducasse and center Will Montgomery.
"Last year there might have been a little more one-year deals than we would typically do just because I think part of that is, 'Hey, we're just getting here, we want to evaluate our team,'" Pace said. "Those one-year deals give us a little bit of flexibility."
Pace believes in spreading his free-agent resources because it limits risk and addresses multiple needs. So expect the Bears to once again pursue several different players on the open market this offseason.
"I don't like to put all our eggs in one basket in free agency," Pace said. "I don't think you're going to see us make one splash free agent signing. I think it's going to be kind of spread-out-your-resources a little bit."
Pace's philosophy is to build through the draft and concedes that the Bears will probably be less active in free agency in future years after developing their home-grown players.
"When we're really rolling, we're stringing together successful drafts and then you're re-signing those guys," Pace said. "That's what our goal is. Initially as we're kind of getting things built up, you do have to dabble in free agency a little bit.
"In the future I hope to [say], 'Hey, we're just re-signing our draft picks.' But I think initially you have a lot of needs so you do have to kind of tread in that water a little bit."