As soon as the Bears completed their interview with Ryan Pace last Wednesday at Halas Hall, chairman George H. McCaskey knew the team had its next general manager.
One of four candidates to meet with McCaskey, Bears president/CEO Ted Phillips and consultant Ernie Accorsi, Pace was hired the next day and introduced to the media on Friday.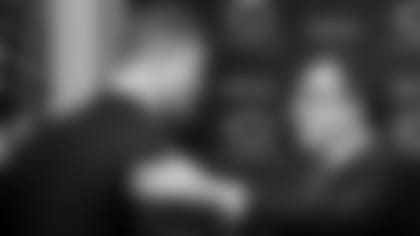 New Bears GM Ryan Pace shakes hands with team president/CEO Ted Phillips last Friday at Halas Hall.
"When he left the room, Ernie, Ted and I looked at each other and you could tell by the looks on their faces he was the guy," McCaskey said. "All four candidates were very strong, but Ryan just stood out."

The Bears were impressed with the thoroughness of Pace's presentation as well as his charismatic personality. Asked what jumped out to him, McCaskey said: "His intelligence, his intensity, his plan, his analytical ability and his assessment of our roster."

Pace made a similar impression on Phillips.

"He blew us away with his intellect, with his forward thinking about always wanting to improve and get better," Phillips said. "He never once came across as thinking that he had all the answers. He's a guy that's going to solicit input. His personnel staff's going to be important to him. He values them and he's going to value their input."

At 37 years old, Pace becomes the NFL's youngest general manager. But his age was never an issue to the Bears, who are more concerned with what he accomplished the past 14 seasons with the New Orleans Saints.

"His age wasn't a factor at all," McCaskey said. "He was just the best qualified candidate. He's got a wealth of experience."

After joining the Saints in 2001, Pace was promoted from operations assistant to scouting assistant to pro scout to director of pro scouting to director of player personnel. In the past eight seasons, New Orleans has reached the playoffs five times, won three division titles, played in two NFC Championship games and won the franchise's first Super Bowl title.

"We never once talked about his age," Phillips said. "I never knew he was the youngest GM until [the media] wrote about it. To me, it was because all we were focused on was his experience [and] what he had to say about what he can bring to the Bears.
"And he just did a great job, from showing intensity, from showing toughness, and from really being able to articulate the kind of head coach he wants and how to build the roster."
As soon as Pace signed his contract last Thursday, he led an interview with Arizona Cardinals defensive coordinator Todd Bowles for the Bears' head-coaching position.
"I was very impressed," McCaskey said, "because you would think it would be natural for somebody to want to celebrate a little bit after reaching this point in his career. But he got right down to business. I was very impressed with the way he conducted the interview, the questions he was asking, and the rapport he developed immediately with the candidate."
Pace will continue to search for a head coach this week. He will lean on McCaskey, Phillips and Accorsi. But the new general manager ultimately has the final say.
Pace will also have the authority over the 53-man roster. But he looks forward to working closely with the Bears' new head coach on personnel issues just like general manager Mickey Loomis and coach Sean Payton do with the Saints.
"In my 15 years in New Orleans I've never seen Mickey and Sean come to a major argument on something like that," Pace said. "And what's the reason for that? Because they have a great relationship. They talk every single day. All those decisions, those are hashed out because we're communicating in the relationship we have. That's what I'm looking forward to."