Bears general manager Ryan Pace didn't divulge any secrets when he met with the media Wednesday, 33 hours before the start of the NFL Draft. But here are four things he revealed:
(1) The Bears' draft board is set and the personnel department will spend the rest of the time leading up to the draft going over different scenarios.
"At this point you've just have to calm down and have confidence in the work that you've done," Pace said. "Sometimes we can have up to 10 reports on one player. So sometimes there is a lot of noise and it's my job to kind of filter through that and take all that information—the personality test, the character, the medical, all the interviews, the workouts—and then make a final decision."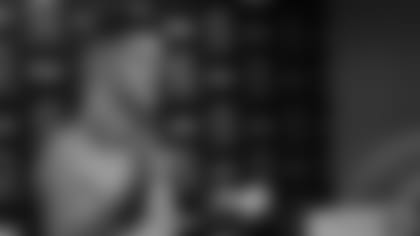 Bears general manager Ryan Pace met with the media on Wednesday the day before the NFL Draft.


Pace lauded how Bears coaches and scouts have worked together in getting ready for the draft.
"I can't thank them enough and the sacrifices that they've made in this preparation because it's a grind," Pace said. "They understand the importance of it. This is the lifeblood of the organization and everyone understands what's at stake and how important these drafts are."
Pace praised director of player personnel Josh Lucas, director of college scouting Joe Douglas and director of pro scouting Champ Kelly.
"The key is just building a good staff, having confidence in those guys and empowering those guys," Pace said. "We always talk about passion. I can tell when guys are passionate about certain players at different points in the rounds. You're never going to have a complete consensus on a player, especially when you've got 10 reports. But you can feel it out, and I like having a clear vision [of] how this player is going to come in and improve our team.
"And then if you couple that with the physical activity that he shows, with all the Bears traits that we're looking for, all the intangibles we're looking for—competitive, tough, passionate, football intelligence—those things all lock in together and make a clear decision for us."
(2) Pace said the Bears "have more than 11 names right now that we're prepared to go with" at the No. 11 pick in the first round.
Asked whether that meant he was sending a message that the Bears want to trade down, Pace said: "If it falls out a certain way, we have enough names where we feel comfortable if we had to go back we could still go back and get a good player."
When engaged in trade talks, NFL teams typically use charts that assign value to every pick in the draft to determine whether the proposed deal is a fair one for both sides.
"Now there are like four charts, so you've got this Excel sheet in front of you," Pace said. "Joey has done a good job of simplifying it down and made it clean where you can quickly look from a point perspective—is this good, bad, fair?
"Sometimes it just depends on the position. It's all market value, so sometimes the points don't equal correctly, but if you really want to get a guy or [another team] wants to come up to your spot, you've got to look at it. But we have all those point charts kind of all together in front of us."
(3) Having nine picks in this year's draft (compared to just six last year) figures to give the Bears more flexibility to make trades.
"You have more ammunition to move around and that's good, if you feel good about a player you want to go get," Pace said. "But I also think we have a lot of needs. I have a lot of confidence in our scouts and having nine picks is attractive because it's just more swings."
In addition to the 11th pick, the Bears also have the following selections in the draft: No. 41 in the second, No. 72 in the third, Nos. 106 and 127 in the fourth, No. 150 in the fifth, Nos. 185 and 206 in the sixth and No. 230 in the seventh. The Bears acquired the 127th pick from the Patriots March 17 in exchange for tight end Martellus Bennett and the 206th choice from the Panthers last year for defensive end Jared Allen.
(4) Pace strongly believes in drafting the best player available rather than reaching to fill a need and urges Bears scouts not to overvalue prospects at need positions.
The only time the Bears would draft a player at a position of need over a prospect with a higher grade is if the difference in their values is negligible.
"If it's really close, then we'll talk it out," Pace said. "But we've just got to be careful of—and I've said this before—it doesn't happen during the draft, it happens in the month leading into the draft, two months. You start saying, 'Hey, we really need this position,' and as you're discussing it with our scouts and coaches and you're putting final grades on guys, you're naturally, wrongfully pulling those guys up too high.
"But I think at this point, if we've stacked our board correctly and they're all really close, then I think you can lean towards need at that time."