Sitting next to coach John Fox at an end-of-season press conference Wednesday, Bears general manager Ryan Pace opened the 45-minute session with a sincere and heartfelt statement.
Pace discussed the Bears' disappointing 3-13 season as well as the need to reduce injuries and vowed to take advantage of ample salary cap space and high picks in each round of the draft this offseason.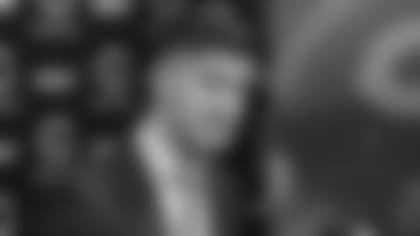 Bears general manager Ryan Pace speaks to reporters Wednesday at Halas Hall.


Here's what Pace had to say to kick off the press conference:
"Overall, our record this season is obviously disappointing. We're all disappointed. We have higher standards; me personally, our coaches, our players, the entire building has higher standards. We're currently analyzing the season and what we must do to improve is already underway.
"The injury situation was an issue. It's something that we're going to clearly be working on this offseason; however, it's not an excuse. The silver lining is that it forced a lot of younger players to step up, and we liked a lot of the way a lot of those younger players responded. [But] we're not going to sit here and hide behind our youth and injuries. We need to evaluate everything and we need to get better. John [Fox] and his entire coaching staff deserve a lot of credit for keeping our team focused, tough and prepared.
"Looking ahead this offseason, we have an opportunity to improve our team through free agency and the draft. We've got a lot of work to do and I know that. We're going to take advantage of the position that we're in. We're top five in cap space this year in free agency. With that comes major, major responsibility. We're picking extremely high in every round. We've got to take advantage of that.
"There's been significant change to our roster since we arrived here; only 19 players on the team from the previous regime. The goal is to look for long-term solutions that lead to long-term success. It's not a quick fix building a team the right way to get us on the right track long-term. That means drafting well and developing those players. Our goal is to keep adding young talented players to this team our fan base can grow with and eventual win Super Bowl championships.
"I don't think now is the time to get into individual player contracts. I understand we've got a lot of players coming out of contract and that's going to be a priority for us and a lot of important decisions. Very soon we'll have personnel meetings with our coaches and scouts. We'll break everything down. We'll have a detailed offseason plan going forward from that meeting."
"We're going to be aggressive and calculated this offseason. We're in a position to do so. We'll have a clear understanding of our roster and where our needs are and where we want to add to each position. I'm honestly extremely disappointed in this season. But I'm honestly excited going forward. My message to Bears fans is simple: We're going to get better. We will improve. I hear you. But I also understand this is just talk and we've got to show actions. We've got to show results. I fully get that."