INDIANAPOLIS – Mitchell Trubisky spent last offseason preparing for the NFL Combine and the draft while being evaluated by 32 future employers.
A year later—after a promising rookie season—the North Carolina product is firmly entrenched as the Bears' quarterback of the present and future.
"It's going to be good for him to kind of take the reins," general manager Ryan Pace said at the NFL Combine. "This is his team as he goes forward."
As Trubisky enters his second NFL season, he will be working with a new head coach in Matt Nagy and a new offensive coordinator in Mark Helfrich. Both men are known for their ability to develop quarterbacks. Nagy helped Alex Smith lead the NFL with a 104.7 passer rating last season with the Chiefs, while Helfrich aided the development of Heisman Trophy winner Marcus Mariota at Oregon.
In addition, quarterbacks coach Dave Ragone has been retained from John Fox's coaching staff, which will provide some continuity for Trubisky.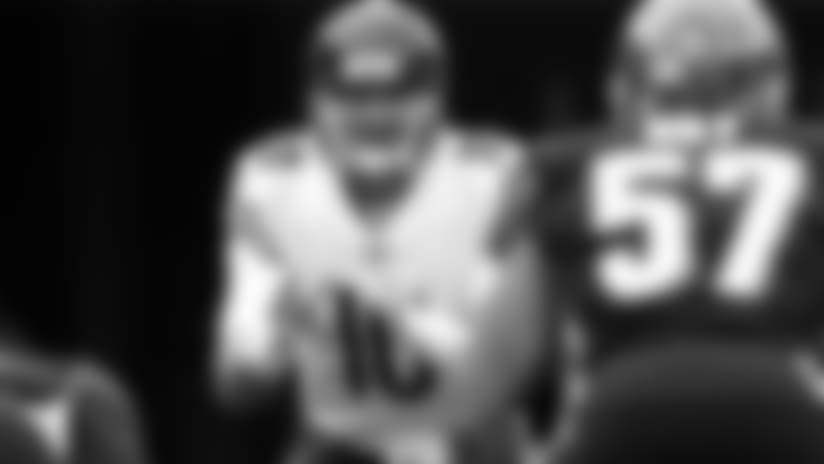 Bears quarterback Mitchell Trubisky prepares to take the snap during a win over the Bengals.


"I think you just surround your quarterback—who's your most valuable asset—with a lot of good resources," Pace said. "We feel like we've done that, definitely with the coaching staff. And they all bring a different perspective to the table. It's cool to walk into the offensive meeting room and see them collaborating and bouncing ideas off each other. It's definitely that kind of relationship. So it'll be interesting to see that play out. It's definitely a creative offense."
Trubisky started the final 12 games of his rookie season last year, completing 59.4 percent of his passes for 2,193 yards with seven touchdowns, seven interceptions and a 77.5 passer rating. He also rushed for 248 yards and two TDs on 41 carries.
"Obviously the physical traits are all there," Pace said when asked to assess Trubisky's rookie year. "I don't think any of that surprised us.
"What was good to see was his natural leadership with his teammates. Some of the things he's doing behind the scenes, kind of in the shadows, that might go unnoticed to a lot of people, it's very natural for him. He's a natural leader. His work ethic, he's very passionate about this. It's really a 24/7 job for him. I think to be a good quarterback in this league, you have to be obsessed with being great and I think Mitch definitely has that."
NFL rules prohibit Trubisky from working with Bears coaches until the offseason program begins in April. But Pace isn't concerned that the young quarterback is slacking off.
"We can't do a lot of communication now, but with Mitch you don't worry about that," Pace said. "He's got really good agents. He's got really good people around him. I never worry about his work away from the building. We know he's working hard. We know that focus is there and we're excited to get these guys back in early April and build upon that."
Watching tape of last season, Nagy was impressed with how Trubisky steadily progressed throughout his rookie campaign.
"He goes in and plays hard," Nagy said. "He makes some really special throws and he's learning the tempo and the speed of the game. For him, just understanding, getting in and out of the huddle, getting up to the line of scrimmage and then making a play, there's a lot to that process.
"You can see the growth as he develops throughout the year that he's improving and getting better and better. For somebody like myself and the staff that comes in, that's really fun."
Asked where he felt Trubisky made the greatest strides last year, Nagy said: "What you could see is just some of the trust in his throws. He has a strong arm—we all know that—but being able to trust it.
"What happens naturally is the game slows down for you the more experience you get, so that's a benefit that he has going into this next year with us getting him. He has game experience and he is not someone that is coming from the classroom. Just trusting every throw that he makes, you can see from where he started to where he finished, that was a big growth."