With the NFL Combine kicking off Tuesday in Indianapolis, Bears general manager Ryan Pace discussed the annual event with ChicagoBears.com:
How important of a role does the Combine play in the Bears' pre-draft process?
"It's all just a piece of the equation. We're filling out this pie chart and it's one of the slices. What carries the most weight is what they do on the football field and what we see on tape. We've always got to be careful at the Combine not to override that. It's part of the process. It's part of what drives the final decision. But you've got to be mindful of [the player's performance on the field] carrying the most weight."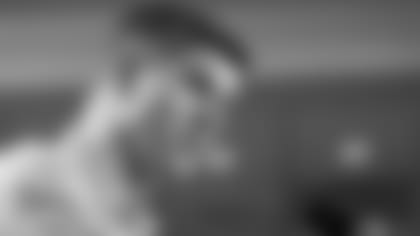 Bears general manager Ryan Pace


What are the most valuable aspects of the Combine?
"It's the medical testing that's taking place and the night-time formal interviews, the 60 interviews that we get with the players. Those are the two most important things."
Speaking of those interviews, many of the players are coached up to answer questions in a certain way. How do you counteract that?
"When we get to those interviews, our scouts have done a great job collecting [information about] their personal and their football character, so we've already got all that. The one thing we're trying to [learn more about] is their football intelligence, and our coaches now are finally in the mix to be able to help with that part. The players can be coached up on how to answer a question on maybe a character [issue]. But when you've got them on the board drawing their plays, going over an offense or defense, or explaining what they're doing on a certain play, they can't be coached up on that. Guys can expose themselves in a positive or negative way pretty quickly when we're focusing on football intelligence."
How much stock do you put in drills at the Combine such as the 40-yard dash or bench press when evaluating players?
"There are certain measurable that we find more valuable for different positions, like these three measurables correlate to success for a defensive lineman and these three correlate more for a receiver. We track that and we know when we're working outside of the range. So we might take another look at a guy who we have low grades on but his numbers are showing that he's excelling on the three traits we value the most. You've got to be careful because there are guys who might run slow but play fast and there are also guys that test very well that aren't very good football players. You've got to be real careful with that because there are a lot of mistakes that can happen at the Combine when you get enamored with what's most fresh in your mind."
Did any of last year's Bears draft picks do something at the Combine that convinced you to select them?
"Kevin White had outstanding numbers at the Combine, but that didn't surprise us. Based off of his tape, we knew that he was going to be explosive [in drills and tests]. Honestly, there was nobody that really surprised us at the Combine. All of the players we drafted were [picked] based on their football tape; the Combine had no major impact on the guys we selected."
On the other end of that spectrum, were there any players you took off your draft board based on something that transpired at the Combine?
"Maybe not so much from the numbers, but definitely from the medical. There are guys that we 'X' off because for us they're 'fail/medical' guys, or we interview them and they just aren't a fit for us for a variety of character or intelligence reasons, and the Combine might have nailed that home."
Everyone wants players who are big, fast and strong. But aside from those traits, what common characteristics are looking for future Bears to possess?
"You're looking for the complete package. You're looking for guys that have no red flags in their testing numbers, medically they're clean and their football character is strong: 'Are they passionate about the game? Are they competitive? Are they a good teammate? Do they play with the toughness and grit that we want to add to the Chicago Bears?' So it's just trying to complete the whole picture and the Combine's part of that process."