Bears general manager Ryan Pace discussed several key topics in an interview with Jeff Joniak Sunday morning on the WBBM Newsradio 780 AM and 105.9 FM pregame show.
On the growth of the team despite the 3-12 record:
"I think anytime you go somewhere new you anticipate a lot of change to the roster and that's really taken place over the last two seasons for us. We came into this season with the thought that hey we're going to be younger and we knew we were going to play a lot of new players and that obviously got accelerated with some of the injuries we've sustained this year. But with those injuries, they kind of are what they are. Now I look at the positive; it's us playing a lot of younger core players. It's seeing them grow into major contributors. I really think that will pay dividends for us going forward and I think the arrow is pointing up with a lot of our players and it's going to be important for us to add this offseason which we'll do."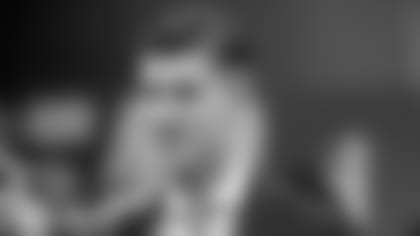 Bears general manager Ryan Pace discussed several key topics in an interview with Jeff Joniak Sunday morning.


On the best developments this season in all three phases:
"Offensively, we've gotten good production out of our draft pick, Jordan Howard. I think he's second in the league right now averaging over five yards a carry. I think that's also a credit to our offensive line. Defensively, we have a good group of young core players, specifically in our front seven. We think our two inside linebackers are going to be good players here for a long time and we're also excited about [Nick] Kwiatkoski. I think you've seen what type of player [Leonard] Floyd can be and really with Eddie Goldman we've just got to get him back to being consistently available. And then lastly with special teams I think we've got two guys that really excel in coverage with [Sherrick] McManis and [Joshua] Bellamy and then you look at the specialists I think [Patrick] Scales, [Patrick] O'Donnell and Connor Barth all developed good chemistry and performed well down the stretch."
On whether WBBM choosing Jordan Howard, Akiem Hicks and Sherrick McManis as players of the year in all three phases are good picks:
"I think those are all three good choices. I think when you look at it … all three of players were acquired in different ways. You have a draft pick, a free agent acquisition and a young player that we inherited and identified as someone who could help us win. I think all three of those guys are definitely arrow up players when you look at them with bright futures ahead of them."
On need for Matt Barkley to rebound from last week's five-interception outing to put himself in contention for a job next year with Bears:
"I think today is going to be important for him. Really anytime you're evaluating a quarterback you want to see how they handle adversity and how they respond, especially the following game. I'm optimistic he'll respond the right way. It's really a great opportunity for him today against a really good defense on the road."
On whether he's had conversations with Jay Cutler about his recovery and expectations moving forward:
"Our conversations have been more with the trainers kind of regarding his rehab. One thing with Jay, you know this, it's always been the case. He's an extremely fast healer. One thing that's encouraging is he's really significantly ahead of schedule. With everything else, we'll talk to most of our players, Jay included, as we wrap up the season this Monday and Tuesday but right now he's really focused on his rehab and assisting Barkley for this game."
On whether he feels good about the direction the Bears are headed with him and coach John Fox working together:
"None of us are happy with our record and this season has been disappointing for all of us. Like John said we do see progress and as we've talked about we've played a lot of younger players and with a lot of them we like what we see. I think right now we have the most starts by rookies and second-year players in the league and there's an advantage to that. We know we need to play with better consistency and I think that will come as these guys gain experience and we need to add more firepower to this roster. One thing I really want to stress is that in order to develop these younger players you really need a coaching staff that's on board with preparing them and playing them and I think John's done a good job in leading our team and his staff in assisting that development. I also think he's done a good job instilling the right culture that we want in the locker room and those aren't small things. To change a culture, that's extremely difficult. But I think if you get it right with the foundation of your roster you can really build on top of that."
On fans who have been waiting patiently for the Bears to turn it around after missing the playoffs nine of the past 10 years:
"We aren't building a team to play in flashes. We're building a team to get to a point where there's consistent and long term winning. I think sometimes this takes a little bit of growing pains as your young core is kind of developing. But I completely understand that patience in the NFL is very difficult. I get that. But we're on the right course and again it's important for us to add more talent to the roster this offseason, which we will. We understand we need to prove it on the field. That's fair. And honestly I'm anxious to share the success with our fans when we get to that point."
On whether this is going to be the most significant offseason for the Bears in recent memory:
"It's important no doubt. But I think you also see how quickly teams can flip in this league. This season alone showcases how quickly things can change for a franchise. We look at every offseason as significant really I think just because if you understand what you're doing it's going to affect the franchise both short and long term. That's a huge responsibility with that and I take it very seriously."
On preparing for the 2017 draft:
"Over the last week we've kind of scattered all over the country. Myself, Josh Lucas, most of our college scouts, seeing a lot of these bowl games. Seeing all of these top players, it's very encouraging and exciting when you see them in person and this draft is extremely encouraging and honestly I just get excited about it going forward."