When Ryan Pace stepped to the plate Thursday night, the Bears general manager wasn't trying to slap a single past an infielder. He was determined to knock one out of the park.
"If we want to be great, you just can't sit on your hands," Pace said after boldly trading up one spot in the first round to land quarterback Mitchell Trubisky with the No. 2 pick in the draft.
The deal with the 49ers cost the Bears selections in the third and fourth round this year and a third-round choice next year. But Pace wasn't apologizing after addressing the most important position on the field.
"There are times when you've got to be aggressive and when you have conviction on a guy, you can't sit on your hands," said Pace, who also traded up in the first round last year to take outside linebacker Leonard Floyd. "I just don't want to be average around here; I want to be great and these are the moves you have to make."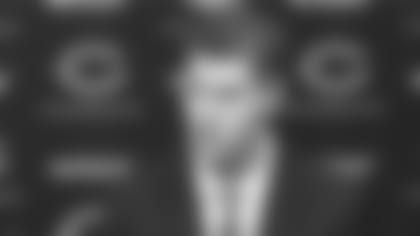 Bears general manager Ryan Pace has traded up in the first round each of the last two years.


The Bears stumbled to a 3-13 record last year while playing four different quarterbacks, with none winning more than one start. At his post-season press conference in January, Pace stressed how fixing the key position this offseason was paramount to the team's long-term success.
"We're excited to add a quarterback of this caliber," Pace said after the Bears chose Trubisky with their highest draft pick since 1951. "The only chance you get to add quarterbacks like this is when you're picking this high in the draft and taking advantage of it.
"As an organization, we had conviction on this quarterback and his special attributes and we did what we had to do to get him. His potential to be a championship quarterback is all we focused on in this move. We feel we have the perfect environment for his development."
While the Bears intend to groom Trubisky as their quarterback of the future, Pace told reporters that free-agent acquisition Mike Glennon will remain the team's starter at the position.
"There's no competition when Mitch gets here," Pace said. "Glennon is our starting quarterback. We'll focus on Mitch's development and Mike Glennon winning games for the Chicago Bears.
"I talked to Mike tonight. He understands the competitiveness of our business at every single position. Mike also understands he's our starting quarterback. Mike's been here working hard all the time, already developing leadership with his teammates. I'm extremely excited about Mike Glennon this season and I'm extremely excited about adding Mitch to our roster."
This year marked the first time in NFL history that three teams traded up in the first round to draft quarterbacks. The Chiefs moved up to choose Texas A&M's Patrick Mahomes at No. 10, while the Texans followed by dealing up to pick Clemson's Deshaun Watson at No. 12.
Asked what set Trubisky apart from the other draft prospects at his position, Pace said: "His accuracy jumps out right away. His ability to process and see the whole field jumps out right away. He's very athletic. He can extend the play. And one trait you'll notice, as quarterbacks are extending the play, is the ability to move around and keep his eyes downfield still looking for open targets instead of just tucking the ball and wanting to run."
Trubisky only started 13 games at North Carolina—all last season. But he played in 17 more contests as a reserve the previous two years after redshirting as a freshman.
"His [lack of] experience is something we talked about a lot," Pace said. "That's real. But watching every single one of his snaps throughout his career, even when he would get in in 2015, every time he got in the game, he made a play. Every time he got in the game, something happened in a positive way."
Pace said the Bears were receiving calls from teams that wanted to move up to No. 3 to draft a quarterback and felt that one of those clubs would likely nab Trubisky at No. 2 if the Bears didn't trade up into the 49ers' slot.
"We have a lot of feelers out there and you're kind of feeling the situation out," Pace said. "I didn't want to sit on our hands and have some team jump us or have it not work out. When we were this close within reach of a player that we all really valued, I didn't want to sit on our hands and risk not getting that player.
"You always feel like there's competition. It's like in free agency when the agent tells you he's got three other teams he's working with. You never really know. You've just got to trust your conviction on it and if you want a player you aggressively go get him."