One of the offseason priorities for the Bears last spring was upgrading the defensive line. The team was active in free agency, signing a trio of players at the position, as well as selecting two defensive linemen in the first three rounds of the NFL Draft. However, there may have been no more important acquisition to the unit that the signing of veteran coach Paul Pasqualoni, who is in his first year coaching the defensive line after several seasons as a head coach on the college level and assistant at
Earlier this week, Pasqualoni sat down with ChicagoBears.com to discuss his unit, the challenges of stopping Packers quarterback Aaron Rodgers and a previous visit he made to Chicago on a college recruiting trip.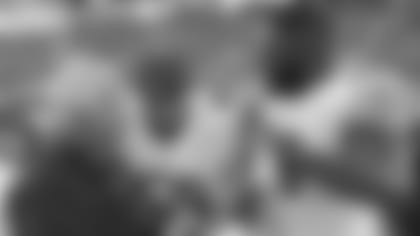 Paul Pasqualoni goes over plays on the sidelines with defensive end Jared Allen and defensive tackle Jeremiah Ratliff.
What does the absence of injured defensive lineman Lamarr Houston mean to the defensive line moving forward?
Well, obviously it hurts our depth, because we were playing with what we consider to be three starters, in Lamarr, Willie Young and Jared Allen. So on one side of the pancake, it hurts our depth. On the other side of that pancake, it gives a little bit of opportunity to a guy like Cornelius Washington, Trevor Scott and David Bass, who are working hard every day. So there's two parts to it.
You mentioned Willie, where has he improved since when the team signed him in the spring?
Willie is doing a good job with the fundamentals and the techniques of really everything we are doing. He's doing better in the run, taking on blocks, and in pass rush as well. He's doing a good job with his alignments, doing a good job with his get-off and doing a good job tying together his feet. You know, you sack the quarterback with your feet, and you have to use your hands. There has to be some coordination between your feet and your hands, and there's not a lot of time for thinking. Because once the ball is snapped, the clock starts ticking. And you've got at the most three seconds, and against guys like Aaron Rodgers, you don't have that much time. And against the Tom Brady's of the world, you don't have much time. So Willie's doing a good job of getting a feel for all of that and getting better.
A lot of fans are excited for the two rookies along the line – Will Sutton and Ego Ferguson. How have you graded their play so far?
It's been good. The first thing with both of them is that the game is not too big for them. They are excited about the game, excited about getting in the game. They are not intimidated. They are both, obviously, major college players. Both had a great deal of success in the programs they were in. They're both very confident in what they do, because they both study and learn. So they've been great to work with and fun in the sense that they are eager to get better every day.
When you evaluated film over the bye and looked at the defensive line's play, what did you see?
What we did was go back and look at every play in the first eight games. Did an analysis of the run game of the defensive line, looked where we can get better there. And then did an analysis of each player under game conditions rushing the passer. So what we've tried to do is make those points to the players, show them on the film where we can get better in both departments. It was a great week to do that, because the break was right at the middle of the season for us. And then we had a little bit of time for them to watch it, for them to go over it in practice before we began our formal preparation for Green Bay on Wednesday. So I thought we got a lot done during the bye week.
On the topic of Green Bay and specifically Rodgers, what are the challenges for a defensive lineman with a quarterback who can do damage inside the pocket but is equally dangerous outside of it?
That's the problem with Aaron. You keep him in the pocket and the pocket's clean, he's going to kill you. And if you get too reckless and he gets outside the pocket, he's going to kill you. So he can beat you in the pocket and beat you outside the pocket, so you know he's a unique player. And really all the good ones are. As you've watched Tom Brady this season, you'll notice, he's doing a really good job outside the pocket. Although people say he's no good outside, well, I beg to differ. And Rodgers is just a fast athlete. He's fast, he's very smart, he knows where everything is, he's got a very quick release, he's got great accuracy and he's got good vision down the field, nothing distracts him. So there's got to be some type of balance between trying to make it uncomfortable for him in the pocket and still having the ability to contain him so he doesn't kill you outside the pocket.
Finally, this is your first season with the Bears, but you have a connection with Chicago. When you were the head coach at Syracuse, you recruited Donovan McNabb out of Mount Carmel High School. What do you recall about that time?
I recall it was a lot of fun, coming to Mount Carmel High School and visiting (coach) Frank Lenti and his staff. Being with the famous Mount Carmel Caravan program. I remember coming in to watch a basketball with (Tom) Osborne of Nebraska, we were both visiting, making a school visit on the same day. They may have been playing Brother Rice, I don't recall. But I learned a lot about the intensity and the rivalry of the Catholic League in Chicago. Very, very intense. (Donovan's) basketball team was an outstanding team. As outstanding of an athlete as he was, he was probably the third or fourth best player on that team, which tells you something about how good they were. So it was a lot of fun being at the school, being with Donovan. Just a great experience. Frank Lenti and I are still close friends.