In the sixth of nine position previews in advance of training camp, defensive coordinator Rod Marinelli discusses the Bears defensive line with ChicagoBears.com senior writer Larry Mayer:
LM: Julius Peppers has been dominant in his two seasons with the Bears. What's his key to success?
RM: "Julius is extremely talented and big. He has a rare combination of size, speed, quickness and athleticism. One of the things that separates him is his consistency, as well as how he practices. He's always at the same level. He's a real pro."
LM: How important is it to get production from the defensive end spot opposite Peppers, especially in terms of sacks?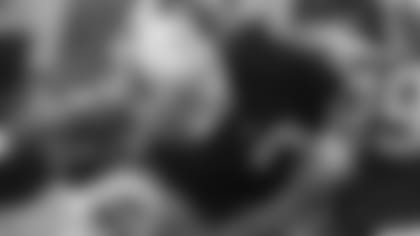 RM: "The guy that's on the other side should want to be that guy because of the looks he's going to get. You have a chance to have a career year opposite Julius."
LM: How would you assess the progress made by first-round pick Shea McClellin?
RM: "It's tough to gauge without pads, but one thing we've seen is his movement. He's got great movement. He also has outstanding speed, change of direction and balance. He's very bright and I know he's tough."
LM: After playing different positions at Boise State, how has Shea adapted to having his hand on the ground all the time as a defensive end with the Bears?
RM: "Fifty percent of his snaps in college were with his hand down. So I think the biggest thing is just the run/pass key recognition, and all that takes is just reps and lining up and doing key work every day. I see nothing but the arrow pointing up with Shea."
LM: Do you see him as an every-down player or more of a pass-rush specialist initially?
RM: "I see him as an every-down player because he's got athleticism and speed. The growth will come. He's 260 pounds right now, but he's hitting the weights. So that will happen. If you go the other way and get big first, developing speed is not going to happen."
LM: How would you assess how tackle Henry Melton performed last season?
RM: "In his first year as a full-time player inside, his numbers were very good. It's a pounding position. It's tough, and I thought he handled it, doing a really good solid job. His pass rush was excellent. He went on a nice streak there. He had some close-but-no-cigars where he was close and his rush was good but the ball was out or whatever. Henry's really a talent."
LM: What have been your impressions of tackle Stephen Paea?
RM: "He did some good things last year as a rookie. He was on and off a little bit. One thing we've seen this offseason is how quick he is. He had surgery, cleaned up his knee a little bit. His quickness and change of direction are outstanding. He's got great upside." [ ](http://www.phoenix.edu/campus-locations/il.html?utmsource=Story&utmmedium=instory&utmcampaign=300x100)

LM: What type of role do you envision tackle Matt Toeaina filling?
RM: "Matt is like a clog in there. In his own way he's a heck of a leader. He's tough and durable, and physical inside. He can play the nose position and he also gives you some pass rush in there. The No. 1 thing he's got to do is anchor that front. He's a big man and he's very athletic."
RM: "We want them all to perform. Obviously we have to stop the run, but we want to get a nice rotation of guys in there with the ability to pass rush, and all those guys have a chance."
LM: Defensive end Corey Wootton finally appears to be healthy. Is this the year he needs to take the next step?
RM: "Oh yeah, he's got to come along. Each year he's gotten nicked up and it's hurt his progress. He had a really good training camp last year and then he got hurt on the first play of the season. He's doing a great job this offseason. The movement, the size and the intelligence are all there. He's just got to put it together."