Bears general manager Phil Emery spent nearly an hour Tuesday speaking to the media about Monday's dismissal of Lovie Smith as well as the search process for a new head coach.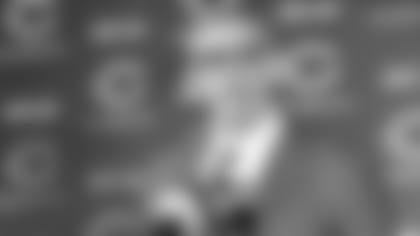 Bears GM Phil Emery addressed the media and offered insight into his decision making process at Halas Hall Tuesday.
"The last couple days have been days of very mixed emotions, tough days in many ways," Emery said. "It was a tough decision because I have great respect for Lovie and the person he is, the man he is and the coach that he is. He's been a very successful coach here. He's had a good run of nine years with very competitive teams, teams that presented themselves with class."
Emery indicated that the most significant factor in the decision to relieve Smith of his duties was the Bears failing to qualify for the playoffs five of the last six seasons.
"As a professional sports team and as a historic charter member of the greatest sports league in this world, the NFL, our No. 1 goal always has to be to win championships," Emery said.
"To win championships, we must be in contention on a consistent basis, and to be in contention we have to be in the playoffs on a consistent basis. Five of the last six years we have not been there. We have fallen short."
Emery acknowledged that the main reason the Bears have fallen short has been a lack of success on offense. The unit struggled throughout Smith's tenure, ranking 32nd, 29th, 15th, 27th, 26th, 23rd, 30th, 24th and 28th in total yards while being guided by four different coordinators in Terry Shea (2004), Ron Turner (2005-09), Mike Martz (2010-11) and Mike Tice (2012).
"We have gone through a number of coordinators," Emery said. "We have searched for answers. The end result is we did not have enough consistency."
Hired a year ago with the understanding that Smith would remain coach for the 2012 season, Emery decided a change was needed after an extensive evaluation of the entire organization. He met on a quarterly basis throughout the season with Bears chairman George H. McCaskey and team president and CEO Ted Phillips, but ultimately had the sole authority to make a move.
"Working through it, I presented options and a decision," Emery said. "Ted and George listened to my thoughts. They asked me good questions. At the end, both Ted and George said the same thing to me: 'Phil, it's your decision to make.'
"They said that to me when I came here in terms of evaluating the situation, understanding that Lovie was our head coach for this year, said that I would have that decision moving forward on the head coach and that same thought and process was laid out on that day. I made the decision to move forward in a different direction with our head football coaching position."
The search process to find Smith's successor has already begun. In fact, Emery revealed that the Bears have scheduled interviews with candidates for this week and next week.
"I'm excited about the process to find the right person for the Chicago Bears," Emery said, "to lead us to consistency, to be in the hunt for championships on a consistent basis."
Emery indicated that his No. 1 criteria is someone who has demonstrated excellence in his role, whatever that role has been. He also said that he Bears will consider a wide variety of candidates.
"We're going to look offensively, we're going to look defensively, we're going to look special teams, we're going to look NFL, we're going to look college," Emery said. "Whatever combination that person possesses in terms of excellence in combination with the individuals that would comprise his staff will have a lot of weight on that person being right for the Chicago Bears."
Emery is seeking a highly organized coach who possesses excellent leadership and administrative skills; who is meticulous enough to know the minute details in the collective bargaining agreement concerning, for instance, what's permitted in practice; and who is upbeat and positive.
"I want somebody that has high energy, somebody that pulls people together in the building," Emery said. "Whatever his personality subset is or however he approaches it, I want somebody to have some warmth that pulls everybody together in that we have synergy not only with our players but everybody in the building to work towards our common goal.
"I want somebody that's good on their feet. I think working with the media, not only in Chicago but in a national sense, is very important. I want this person to stand up and represent us well. It's a very tough job. It's very demanding. Wins and losses weigh heavily week-to-week.
"There needs to be a level of consistency in this individual in how he presents himself, not only when we're up but when we're down and how we're going to rebound from being down."