The Bears won three division titles and one conference championship under coach Lovie Smith and general manager Jerry Angelo in their eight seasons together from 2004-11.
But both men lost their jobs after the team failed to make the playoffs following a promising start. Angelo was fired a year ago and Smith was relieved of his duties last Monday. The Bears have now missed the playoffs in five of six seasons since reaching the Super Bowl in 2006.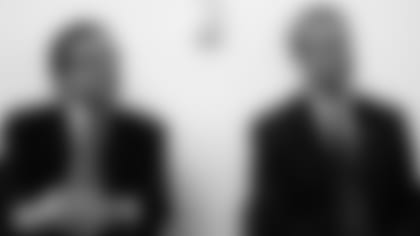 Ted Phillips and George McCaskey listen to general manager Phil Emery speak Tuesday at Halas Hall.
"It's a tough business," said Bears president and CEO Ted Phillips. "Jerry and Lovie brought a lot of positive things to the Bears in terms of how they approached the job, how they cared about the Bears and bringing some winning times too. [But] you've got to make the playoffs consistently."

Phillips experienced mixed emotions with Smith's departure.

"It's an exciting day to see how we're going to move forward," Phillips said. "It's also a sad day to lose someone as quality of a person and a coach that Lovie Smith was."

Bears chairman George H. McCaskey expressed similar feelings about the move.

"It was very difficult," he said. "Our family has high regard for Lovie. He's represented the Bears very well, and he's a good coach and an outstanding man. One of the things we're most grateful to Lovie for is he didn't just teach our players football, he taught them how to become men."

Valuable year: When Phil Emery was hired as Bears general manager a year ago, it was with the understanding that Smith would remain coach for the 2012 season.

Asked Tuesday if he feels like that set the franchise back, Emery said: "No, absolutely not. No. 1, coach Smith is an excellent person. I've learned a lot from him.

"I've learned a great deal about our coaches. I think we have a fine group. Some of them may end up back here, so that was very valuable time in terms of learning more about our players, not only externally what I see on tape and in games but internally how they operate; what their pluses and minuses are, what their hot buttons are. So I would say this year was very valuable."

Players unhappy: Emery understands why several Bears players were upset that Smith was fired.

"There's always going to be disagreement in terms of making those types of major impactful decisions," he said. "I have had players come by and talk to me. There is a lot of emotion. They love coach Smith. I certainly understand that and I take it from that context."

Many players who voiced their displeasure had played for Smith for several years.

"You saw how strongly they feel about Lovie and it's perfectly understandable," McCaskey said. "He's a great guy and a great coach. I thought it was encouraging to see how the players were sticking up for him."

Roster move: The Bears on Friday signed receiver Brittan Golden to a reserve/future contract.

The 5-11, 186-pounder was originally signed by the Bears in 2012 as an undrafted free agent from West Texas A&M. He spent the preseason with Chicago and the last two weeks of the regular season on the Jacksonville Jaguars' practice squad.