Seven years ago Tuesday the Saints were protecting a precarious 24-17 lead late in Super Bowl XLIV when cornerback Tracy Porter produced the signature play of his career.
With the Colts facing third-and-five at the New Orleans 31 with just over three minutes to play, Porter intercepted a Peyton Manning pass intended for Reggie Wayne and returned it 74 yards for a touchdown, clinching the first Super Bowl victory in Saints history.
Porter said Tuesday he knew that Wayne was going to run a short stick route on the play as soon as receiver Austin Collie motioned from outside to a stack alignment with Wayne. That knowledge enabled Porter to jump the route and beat Wayne to the ball.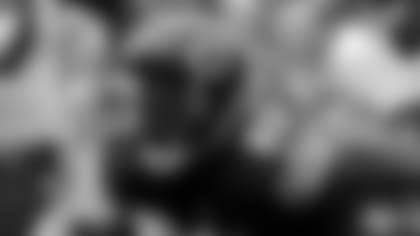 Bears cornerback Tracy Porter recorded 48 tackles, two interceptions and 13 pass breakups in 2016.


"They ran that play earlier in the game," Porter said. "When they came out we were in man-to-man coverage. Malcolm Jenkins was the nickel. He and I both knew what was coming, so when [Collie] motioned down, [Jenkins] and I switched guys.
"They never put [Collie] as the outside receiver from what we watched on film. So in seeing that we knew he was going to motion down to a stack position. Malcolm and I didn't even have to make hand signals. We just made eye contact, knowing that we were going to switch guys."
Confident he knew what play was coming, Porter decided he was going to jump the route, understanding that a double-move by Wayne would likely result in an easy game-tying touchdown for the Colts.
"Either I was going to make a play or he was going to double move me and make a play, so one of us was going to make a play," Porter said. "I just told myself that if he runs a double move, then they deserve to win the championship. But I knew what was coming, so I was going to play the play. I played the play, he threw it right to me and the rest is history."
As Porter dashed untouched into the end zone, he covered the final 30 yards while looking up and pointing at a throng of Saints fans in the crowd.
"My first thought was, 'don't drop the ball,'" Porter said. "When I was running, I was thinking that I was about to score in the biggest game of my career. People would give their right arm to play in the game let alone make a big play in the game.
"There were a ton of Saints fans in the crowd jumping and screaming. Everyone asked me what I was pointing at and I was pointing at those guys."
As you'd expect, Porter was a pretty popular guy by the time he reached the jubilant Saints locker room. "That was the first time I had ever seen a cell phone with 200 missed calls and 200 text messages," he said. "But the first person I called was my grandmother."
Velma Porter, who passed away last May at the age of 90, was Tracy's No. 1 fan.
"I knew she was at home watching the game," he said. "She was excited. She watched every one of my games. She was the one person I wanted to talk to at that point."
Seeking a return to the top
Porter spent his first four NFL seasons with the Saints from 2008-11 before playing for the Broncos (2012), Raiders (2013) and Redskins (2014). He signed with the Bears in 2015, reuniting with Fox, his coach in Denver, and Pace, who worked in the Saints personnel department when Porter was with New Orleans.
Although the Bears stumbled to a 3-13 record in 2016, Porter is confident in Pace's ability to build a championship team.
"I have the utmost faith in Ryan," Porter said. "Outside of Fox, he's one of the main reasons I decided to come here. I know what type of guy he is and I know the job he did in New Orleans finding talent to put together a Super Bowl-caliber team."
While Pace is focused on upgrading the Bears roster this offseason, Porter is concentrating on improving his own game and helping his young teammates reach their potential.
"Starting with myself and the secondary, I feel like we didn't do enough to help our team be successful," Porter said. "We can point in different directions, but that's not the type of person I am. For starters, I know I didn't make enough plays to help us win, and collectively as a secondary we didn't do enough. So that's the group I'm starting with.
"I'm on my younger [teammates]. From the time we left I told them I was going to be on them making sure they're taking care of their bodies and doing the things they need to do to come back and be in shape."
Porter, who recorded 48 tackles, two interceptions and 13 pass breakups in 2016, is approaching his 10th NFL season with a sense of urgency.
"We have to start now," he said. "We can't wait until OTAs. We can't wait until training camp. It has to start now in getting that mindset and training and preparing ourselves for the upcoming season so we can hit the ground running."