CHARLOTTE, N.C. – With scores of players entering the final years of their contracts, 2013 is shaping up to be a "prove-it" season for the Bears.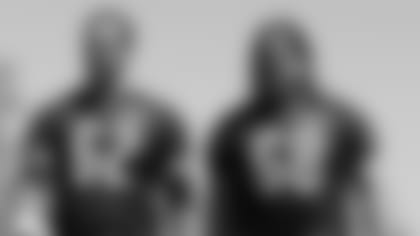 Eben Britton (left) and Matt Slauson walk off the field during Bears training camp.
Fittingly, Friday night's preseason opener in Carolina will be the first "prove-it" game for several players who are looking to earn contributing roles or roster spots with the Bears.
No one has had a better training camp than cornerback Isaiah Frey. The 2012 sixth-round draft pick from Nevada has consistently made plays on the ball, improving his chance of making the 53-man roster. But with veteran nickel back Kelvin Hayden being lost for the season with a torn hamstring, Frey will get a chance to earn that important job.
Frey spent his entire rookie season on the Bears' practice squad. And although the 5-11, 190-pounder has excelled in camp, he has yet to appear in an NFL regular-season game. Likely to get a lot of reps at both nickel back and cornerback Friday night against the Panthers, Frey can begin to show the Bears that he's capable of replacing Hayden.
With veteran tackles Jermon Bushrod and Jonathan Scott dealing with injuries early in training camp, Eben Britton figures to get a long look in the preseason opener.
Head coach Marc Trestman has been impressed with Britton, revealing this week that the fifth-year pro from Arizona is in contention to be one of the seven offensive linemen the Bears dress for regular-season games this year. Britton would likely have to win the swing tackle role from Scott, who remains sidelined with a knee injury.
Britton has NFL experience. He signed with the Bears in April after appearing in 37 games with 30 starts the past five seasons with the Jaguars. The 6-6, 308-pounder was selected by Jacksonville in the second round of the 2009 draft and started 15 games at right tackle as a rookie. Hampered by injuries in 2010-11, Britton appeared in 11 games with five starts at left guard last season.
Another player who has excelled in training camp and can greatly improve his chances of earning a job is receiver Joe Anderson. The 6-1, 196-pounder has produced with the first-team offense in camp, subbing at times for Brandon Marshall, who has had two days off; Alshon Jeffery, who missed part of one practice with a tight hamstring; and Earl Bennett, who has been sidelined since Saturday with a concussion that will prevent him from playing in the preseason opener.
Anderson joined the Bears last year as an undrafted free agent from Texas Southern. He spent the first 14 weeks of the season on the practice squad before being promoted to the active roster and playing in the final three games, primarily on special teams. The Bears like his playmaking ability, which he demonstrated last preseason by catching a touchdown pass against the New York Giants.
With veteran D.J. Williams sidelined due to a calf injury, rookie second-round draft pick Jon Bostic will open at middle linebacker against the Panthers. Bostic will make the 53-man roster but could win the starting job with a productive preseason.
The Bears are pleased with the progress Bostic has made since the beginning of training camp—he's playing faster and with more precision in his alignments—and are impressed with his athleticism, speed and desire to be great.
The preseason is also extremely important to second-year safety Brandon Hardin. The 2012 third-round draft pick missed his senior season at Oregon State with a shoulder injury and spent his entire rookie year on injured reserve after hurting his neck last preseason.
Hardin is listed third on the depth chart at strong safety behind Major Wright and Anthony Walters and likely will have to beat out six-year NFL veteran Tom Zbikowski for a roster spot.