Jay Cutler credits Adam Gase with helping him greatly reduce his turnovers this season, while the offensive coordinator insists that the quarterback is the one who deserves the kudos.
Either way, the bottom line is that Cutler is in the midst of his most efficient season since joining the Bears in 2009. After tying for the NFL lead with 18 interceptions last season, the 10-year veteran has thrown just seven picks this year.
"It goes back to a lot of the scheme and the way Adam calls plays and designs stuff, and the coaching," Cutler said. "There is always an emphasis of knowing where everyone is at and not forcing balls. If we have to punt, we have to do it."
Cutler threw multiple interceptions in 26 games over his first six seasons with the Bears, including seven contests last year. But it hasn't happened a single time in 12 starts this year, leading to an interception percentage of 1.8 that's on pace to be the best of his career.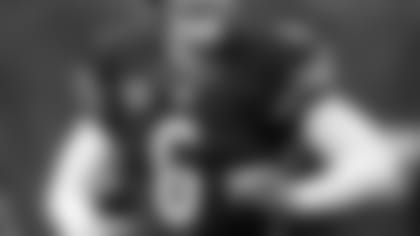 Jay Cutler has completed 62.6 percent of his passes this season for 3,027 yards.


"He's been right a lot," Gase said. "He's taken those few times where there's been some plays where he's had to really ad lib and he's made the right decision. Very rarely has he made a decision where we were all sitting there going, 'Why would he do that?'
"He hasn't done that. He's stayed within the offense. He hasn't tried to venture out. He's done a good job of taking some of these play calls and getting us actually out of some bad plays and putting us in some better situations.
"He deserves a lot of the credit for what's going on. He can say it's the scheme, but it's been him making the right decisions and putting our offense in the right position."
That decision-making has allowed Cutler to turn broken plays into big gains, as he did twice in last Sunday's loss to the Redskins. After scrambling in the pocket, the veteran quarterback completed passes of 36 yards to Deonte Thompson and 50 yards to Alshon Jeffery.
"It starts up front," Cutler said. "Our line has done a good job of staying on blocks and finishing blocks knowing that if it does break down we're going to try to get outside and make something happen. So it kind of starts up there. Those guys can't give up. Sometimes we ask them to stay on blocks for a long time.
"And then on the outside guys, it's just kind of want-to at that point. If they want to make a big play, there's going to be some opportunities there and we've got some guys that are hungry and want to make plays for us."
Cutler has completed 62.6 percent of his passes this season for 3,027 yards with 16 touchdowns and a 92.2 passer rating that would be a career high.
Those numbers are even more impressive when you consider that Jeffery, Eddie Royal and Kevin White—who were projected to be the Bears' top three receivers this year—have combined to miss 24 of a possible 39 games due to injuries.
"[Cutler] has never panicked," Gase said. "He's never wavered. He's just gone about his business as if the starting three from what we thought in the beginning of the spring have been out there the whole time. He's just moved on week-to-week and whoever's been out there has stepped up and made plays and he's done a good job of just staying focused on his job."
With injuries decimating the receiver position, Cutler has helped incorporate unheralded wideouts Thompson, Joshua Bellamy, Marc Mariani, and Cameron Meredith into the offense.
"I think Jay's awesome and he's been working his tail off to be one of the best and help us win," said left guard Matt Slauson, "and I think that that kind of spreads throughout the offense."