Last year, quarterbacks were the marquee position in the draft. The first two players picked in 2015 –Jameis Winston, who went to Tampa Bay, and Marcus Mariota, drafted by Tennessee – were each decorated college players. Both had played for national titles during their time in school, and Winston and Mariota each had a Heisman Trophy on their mantel. The draft marked the first time since 2012 that the top two players taken were both signal-callers.
The 2016 crop of quarterbacks lacks the cachet of last year's group. Of the four quarterbacks that played in the College Football Playoff on New Year's Eve, only one—Michigan State's Connor Cook—is in Indianapolis for the Combine. According to the most recent rankings of NFL Network analyst and former pro scout Daniel Jeremiah, the top quarterback in the draft class is Carson Wentz, who put up big-time numbers the past two seasons for North Dakota State. Following Wentz in Jeremiah's rankings is Cal's Jared Goff, a prolific three-year starter.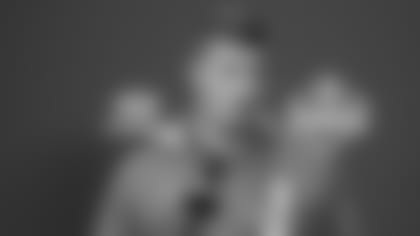 Michigan St. quarterback Connor Cook during his press conference at the NFL Combine on Thursday.


At the Combine, all the quarterbacks are trying to prove to teams picking near the top of the draft that while they don't have the star power of Winston and Mariota, they deserve to be picked just as high. Wentz will be asked by teams about playing against competition that wasn't the highest level of college players, while questions have arose about Goff's size.
"I always want to go out there with something to prove," Goff said Thursday when asked if he was the top quarterback in the draft class. "I always have a chip on my shoulder and I always want to go out there and prove people wrong, prove people right, whatever it is. I just go out there and try to do my best. By no means am I complacent at all. I want to go out there and do my best and hopefully play well."
Cook was an efficient four-year starter for the Spartans, following in the footsteps of current NFL quarterbacks Brian Hoyer and Kirk Cousins. Cook suffered a shoulder injury at the end of his senior year and was ineffective in Michigan State's final game—a blowout loss in the national semifinal to Alabama. This week at the Combine, in front of coaches and decision-makers, Cook wants to show he also deserves to be in the consideration for an early draft choice.
When asked if he could leave Indianapolis as the top player at his position, Cook was confident he has the skills and makeup to do just that.
"I believe so," Cook stated. "I think there are a lot of misconceptions about me, and I think I can settle those in the team meetings, with the coaches, with the GMs. Let them know who I am as a person, get up on the board, show them I can draw up anything versus a certain defense. Dial the blitz, I can redirect the protection to pick it up. Anything that I can do to show them that I'm not just a good football player, but I'm mentally sound, I know the game inside and out, and that I'm just a complete football player."
If Cook is able to prove all that, there could be some even more intrigue about who the best quarterback in the Class of 2016 really is.
Under the helmet
While fans study the 40-yard dash times and bench press numbers, the on-field drills tend to be secondary in the minds of a lot of NFL coaches and general managers. What those people find most useful at the Combine is the player interviews. Over the course of the week, each team can talk to prospects, have them draw out plays and find out what they're like during a 15-minute interview session. It is during this time that teams really learn what motivates and inspires the draft prospect.
One question that many teams ask prospects is how much they care about football. For some players, it's just a job. For others, the passion runs much deeper. Those in the latter group tend to put in extra time studying their playbook or picking up the confidence of their teammates. Coaches want players who care deeply about the game, so it is during the interview process that they can find out what type of person is behind the name on the draft board.
Notre Dame offensive tackle Ronnie Stanley said that one of the things he is focusing on during team interviews is showing his passion for football. Stanley, who is considered one of the 10 best players in the class according to Jeremiah, explained that football has played a big role in his life, a big selling point to teams that may use a high draft choice on the former Fighting Irish blocker.
"I think there's a big—I don't know—aura of people thinking I'm lackadaisical, I guess," Stanley said. "I don't know, but I'm just really trying to show people how much football means to me and how much I do care about it."
NFL teams obviously want to see how well a tackle prospect like Stanley blocks and runs on the field. But as important are the off-field factors, which can be gleamed through player interviews.