When he was with the Bears from 1994-97, Raymont Harris was probably the most versatile player on the roster. He was nicknamed "Ultraback" because he could be a hard-nosed short-yardage back, a finesse runner and a reliable receiver out of the backfield.
Harris didn't pattern his game after anyone in particular, but he did enjoy watching bruising, physical running backs like Walter Payton and Earl Campbell. Harris led the Bears in rushing in 1996 and 1997. And he had some good role models on the team.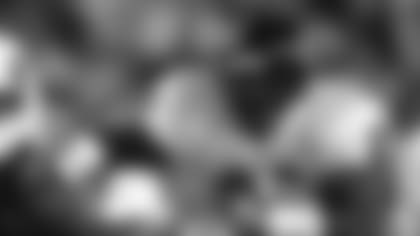 Raymont Harris
"I looked up to Lewis Tillman a great deal, because he was more experienced at my position and was very professional," Harris said. "I loved the way he approached his job and cared for his family."

Harris' adjustment to life after football wasn't easy. During his career with the Bears, he made good contacts with local radio and television stations. He knew he wanted to stay in the sports world and people always told him he had a future in sports broadcasting. Harris was a communications major at Ohio State, so it was the next logical step for him to take.

"I definitely struggled," Harris said. "I put so much time and effort into being the best football player that I could be, that I had no experience in other areas to build off or put on my resume."

After his broadcasting career, Harris became a mortgage consultant and later decided he wanted to go back to work for his college alma mater. He visited with the athletic director and other university staff to learn about the fundraising side of the business. He then applied for every job listed on the Ohio State website.

Harris took an entry level position with the Fisher College of Business and learned everything he needed to know about development while he moved up the ladder. A few years later, after gaining the experience he needed, Harris applied for and accepted a position with Ohio State Athletics. He is now the director of development for Ohio State Athletics, responsible for major gifts for all 36 intercollegiate sports.

"It's very fulfilling," Harris said. "To have a job in the sports world, raising money for a place that helped me come of age and also impart wisdom on guys from a similar background as me is a great feeling. I feel very fortunate."

Harris would encourage current players to save their money and spend it wisely. After experiencing life after football, he knows the importance of preparing for retirement.

"Your job in the NFL is temporary, and chances are you'll be retired from football in your 20s or early 30s," Harris said. "There's so much life to live after the game that you'll have a nice head start, but it won't be enough."