When Darryl Sharpton signed with the Bears Sept. 25, he didn't expect to be starting at middle linebacker less than three weeks later. But that's exactly what transpired last Sunday in Atlanta.
"It's not something that I had on my calendar obviously," Sharpton said. "But it's what adversity brought and with the coaching, this organization prepared me for this adverse situation and I was able to step in."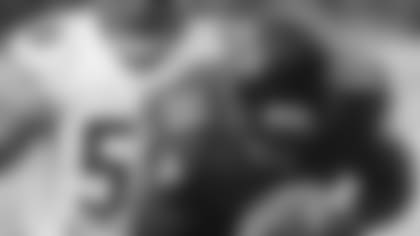 New Bears linebacker Darryl Sharpton recorded 10 tackles in last Sunday's win over the Falcons.
With the Bears' top four linebackers all unable to play against the Falcons due to injuries, Sharpton stepped in and stepped up. He not only recorded 10 tackles and broke up a key third-down pass with a crushing hit on receiver Roddy White but called all the defensive signals.
So how did Sharpton know enough about the defense to get his teammates lined up and make all the checks?
"Just experience playing football, just being in the game for so long," he said. "There's some carryover from different systems and you try to gather all of your football knowledge and information and then take the new game plan and then just go out there and try to mesh the two and do your best.
"I didn't play perfect. I made mistakes, which I have to correct, which is why we're going to these meetings, so you can improve the next week."
Sharpton was selected by the Houston Texans in the fourth round of the 2010 NFL Draft out of Miami. He appeared in 42 games with 19 starts over four seasons, recording 166 tackles, one interception, one sack, one forced fumble and one fumble recovery.
After ending each of his first three seasons on injured reserve, Sharpton became a starter midway through last year after Brian Cushing suffered a season-ending injury. The experience helped Sharpton excel in the same type of scenario last week with the Bears.
"It was a similar situation when 'Cush' went down," he said. "Last year I stepped in his spot and I think I did a good job there. So it wasn't unfamiliar territory [last Sunday]. It was like déjà vu."
Sharpton left the Texans to sign with the Redskins in March. But he sustained an ankle injury in training camp and was eventually waived/injured Sept. 22. The 26-year-old signed with the Bears four days later, joining his third team in a six-month span.
"It just speaks to the nature of life, the nature of the league," Sharpton said. "You never know what's in store for you in the future. You don't know what's going to be there. Sometimes you don't know whether you're going to be on a team or you're going to be starting on a team. You never know in this league. The only thing you control is your effort and your intensity and your willingness to play, As long as you keep that, you've just got to put the rest in the Lord's hand."
Sharpton is excited to reunite with Bears linebackers coach Reggie Herring, his position coach with the Texans in 2011-12.
"He holds everybody to a high standard and he doesn't keep it a secret what he wants from you," Sharpton said. "He's going to tell you exactly what he wants and if you're not doing it the right way he's going to correct you.
"Reggie's very direct and to the point. He has a lot of memorable quotes. His general message is just stay focused, focus on your job at hand and take advantage of your opportunities. He's a guy who coaches details and he's very detailed-oriented and he demands that from his players, all players. It doesn't matter who you are, he has a high standard for everyone."
Sharpton is the second cousin of Reverend Al Sharpton. But that's far from the most interesting thing about the linebacker given his journey to the Bears, which began with a tryout.
"When I first came here I only had the clothes on my back," Sharpton said. "That same night I had to go to Walmart and get some underwear and socks and stay in a hotel, so it was pretty rough. It was the first time I did something like that, just living out of Walmart pretty much. My wife was able to ship my car and some clothes up to me now, so I'm a little bit more settled."