INDIANAPOLIS — One of the most bizarre sports stories of all time led to one of the most highly-anticipated media interviews in the history of the NFL Scouting Combine.
Notre Dame linebacker Manti Te'o spent about 15 minutes Saturday speaking to an overflow crowd of reporters about his relationship with a girlfriend who did not exist.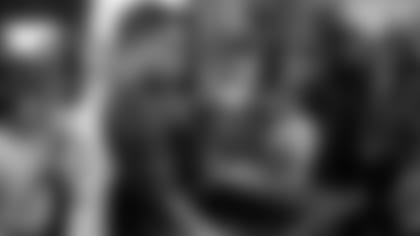 Manti Te'o talks to reporters Saturday at the NFL Scouting Combine in Indianapolis.
Te'o communicated for several months over the Internet with a woman he believed to be Lennay Kekua. He was also led to believe that she died of leukemia, something he discussed in interviews leading up to Notre Dame's appearance in the national championship game against Alabama.
Ronaiah Tuiasosopo has since admitted that he perpetuated the hoax and that Te'o was the victim.
"For me, I've learned just to be honest in anything and everything you do, from the big things to the small things," Te'o said Saturday. "Secondly, to keep your circle very small and to understand who's really in your corner and who's not."
Te'o conceded that he has been embarrassed by the situation, which has made national news.
"For anybody to go through, it's definitely embarrassing," he said. "When you're walking through grocery stores and you're kind of like giving people double-takes to see if they're staring at you, it's definitely embarrassing. I guess it's part of the process, it's part of the journey. It's only going to make me stronger and it definitely has."
As you'd expect, every NFL team that's met with Te'o has asked him about the incident.
"They want to be able to trust their player," he said. "You don't want to invest in somebody you can't trust. With everybody here, they're just trying to get to know you, get to know you as a person and as a football player. I understand where they're coming from."
Te'o closed his media session by showing his appreciation to those who are close to him.
"It's been a hard but tremendous ride for me and my family and the University of Notre Dame," Te'o said. "I'd like to thank my parents, my family, my friends, the University of Notre Dame and everybody who supports me. I couldn't do it without all of you. Hopefully after this I answered the things I needed to answer and we can move on with football."