The NFL's decision to fine Bears rookie linebacker Jon Bostic $21,000 for a big hit in last Friday's preseason win over the Chargers was not a popular one among his teammates.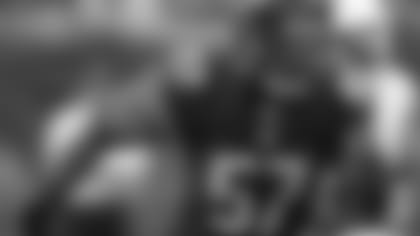 Jon Bostic chases down a Chargers receiver in last Thursday's win.
Bostic broke up a pass by drilling receiver Mike Willie on a bubble screen over the middle. The second-round pick appeared to hit Willie with his shoulder and was not penalized on the play. In levying the fine, the NFL ruled that Bostic struck a defenseless receiver with his helmet.
"The league thought that it was an illegal hit; I disagree," said veteran linebacker Lance Briggs, who broke the news of the fine via his Twitter account. "I think that if you ask around the league, probably 100 percent of the league's going to say it was a legal hit. But it's not my call."
Briggs was having trouble understanding why Bostic was fined for the hit.
"You have to continue to play football the best way you know how and that's what he was doing," Briggs said. "None of the [officials] seemed to think there was anything wrong with the play."
Asked what Bostic could have done differently, Briggs said: "He could have allowed the receiver to run him over. That's another technique. We could play the catch technique. We could take a charge. I don't know. You've got to play football."
Bears coach Marc Trestman felt that it was a clean hit as well.
"His head was up and he hit with his shoulder and he ran through the player the way we're trying to teach these guys to play every day, to be safe for themselves and for the guys that they are hitting, to do it the right way," Trestman said. "It was a violent hit, no doubt about it. But I believe from what I saw that it was in the frame of the rules."
Last November Bears safety Chris Conte was fined $21,000 for a helmet-to-helmet hit on Panthers receiver Brandon LaFell. Conte appealed, and the fine was reduced $10,000.
"I thought it was a clean hit, but I thought mine was a clean hit too," Conte said. "He'll appeal it and hopefully they'll reduce it. It's a lot for a rookie. He did get drafted in the second round, so he's got a little bit of money. But still, it's a tough thing, especially in preseason."
Conte said that he didn't change the way he played the game after getting fined and doesn't believe that being disciplined by the league will adversely affect Bostic either.
"I don't think he'll have any trouble with that," Conte said. "I'm sure guys and coaches will talk to him and say, 'You've just got to keep on playing.' He can't change the way he's playing. He's playing great, so keep it up."
Bears tight end Martellus Bennett offered to serve as Bostic's legal counsel.
"It looked bad, but I thought it was a perfect hit," Bennett said. "His hat was in the guy's chest. The receiver caught a screen and ran back in, which you never want to do. You always want to run back out. That's where the pursuit angle is coming from—on the inside.
"I thought it was a great, clean hit. He can dispute it and challenge it, get some good film on the circumstance and send it in, at least try to get half the fine taken away. That's what I would do. If he needs somebody to represent him, I will."