With the Bears set to begin their first training camp under new coach Marc Trestman July 25, radio analyst and former guard Tom Thayer shares his thoughts about the team.
What excites you most about the Bears heading into camp?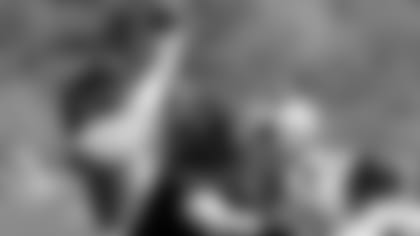 Left tackle Jermon Bushrod will be entrusted to protect Jay Cutler's blindside this season.
TT: "Having an offensive-minded head coach is going to provide the potential opportunity for this offense to explode like we've always envisioned in the past with a defensive-minded head coach. Marc Trestman gives each of these offensive players an opportunity to flourish, in time. I'm not saying it's going to be Week 1, but as the season progresses it's going to be exciting to see the growth and explosiveness of this offense."
How quickly can the players pick up the new offense and perform at a high level?
TT: "The best thing is that coach Trestman already has an indication of the talent he's going to have the chance to work with. Each week a different player is going to have the opportunity to excel. But the most important key is for Jay Cutler to know this offense like a quarterback has to know it in order for everybody to succeed. It's going to be a matter of Jay's ability to grasp it so he can say it in the huddle, know what he's saying and then also make use of the weapons he's going to have on each play. I've got day-to-day expectations as far as growth, but when you look at the big picture, like Jay said, it's going to take a period of years until you get the maximum out of this offense."
How much better is the offensive line than it was a year ago?
TT: "It's so much better because you don't have an experiment at left tackle anymore. That's no slight to J'Marcus Webb because I think he has the ability to be a great one in the league as long as he sets his mind to it. But as long as you have Jermon Bushrod, it's no longer an experiment like a J'Marcus Webb or a Gabe Carimi has been the past couple years. When you're talking about left tackle, I think you're better at that position than you have been maybe the last 10 or 12 years." Which player was the Bears' best offseason acquisition?
TT: "I like the upgrade at tight end with Martellus Bennett. But in terms of what you need in order for this offense to succeed at the tempo they intend to play at, I think Bushrod could be as important as any player who was signed this offseason. And it's not only due to his experience in New Orleans but he'll also help set the standard for what this team is going to need to accomplish."
Who are you most eager to watch in training camp?
TT: "Alshon Jeffery and Shea McClellin, not because they were the Bears' first two draft picks last year but because I see potential in each of them. I think they both have tremendous upside."