With the NFL Combine being conducted this week in Indianapolis, we asked 2015 Bears draft picks Kevin White, Hroniss Grasu and Adrian Amos about attending last year's event.
How would you describe your Combine experience?
White: "Guys say that it's kind of like a meat market because when you weigh in you're up there in just your compression shorts, you say your name and get on the scale, and it's a little weird because there are 50 coaches staring at you. There's definitely a lot going on in a little bit of time—waking up early in the morning to take a drug test, psychological tests we had to take, and then on top of it all we had to run and compete on the last day."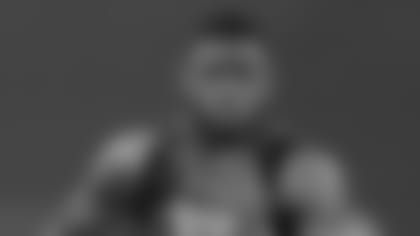 Safety Adrian Amos at the 2015 NFL Combine.


Grasu: "The longest day was the day that we had to go through all the team doctors and go to our x-rays. If you're a guy who had a lot of injuries in college you had to be at the hospital for MRIs for a couple of hours. I think the main thing is just staying focused on why you're there and appreciating why you're there. It's a special thing to get invited to the Combine and when you're there you've got to make the most of the opportunity."
Amos: "It's one of those dreams come true, but there's a lot that goes with it that people don't realize. The on-the-field part is the easiest of the whole experience. But by the time you get on the field you're tired from the rest of the days—the physical examinations, the meetings, the interviews. You don't sleep and you barely get to eat."
How did you prepare for the Combine?
White: "I went to EXOS in Phoenix. They had a guy come in and put a camera on us and record us and watch our eye contact and help us with what to say, what not to say and how to answer the questions [in team interviews]. They got us prepared for everything."
Grasu: "I went to Prolific Athletes in Carlsbad, Calif. They prepared us for what types of questions we'd get in our interviews, the Wonderlic test and obviously for the on-field workouts."
What was the camaraderie like among players at your position?
White: "We were all rooting for each other, saying: 'Good luck. Go out there and kill it.' We were competing, but it's a game. We all love it and we're all good, so we were all rooting for each other. I was hoping everybody did well. I want everybody at their best and let's see who's the better guy."
Amos: "It was more like we were on the same team because we all know how it is and what we were all trying to do. It's a competition, but everybody wants to see everybody do well."
Were you asked any strange questions during the team interviews?**
White: "The weirdest question was if my girlfriend got sick would I miss the game. I said no. They said, 'What if she got sick and there was practice?' I said, 'I'm going to practice. I'm doing what I have to do and will take care of [her] later.'"
Grasu: "One team asked me if I remembered everybody's name in the room, but it was kind of a joke; they weren't really serious about it. There weren't too many strange questions. I got asked about my family's pizzeria. One team drew up a play with all their calls versus a certain defense and taught it to me. Then they flipped the page and it was blank and they told me to teach it to them."
Amos: "I got asked stuff like how many brothers and sisters I have, what are their names and what are their birthdays. You want to tell them they don't need to know all that, but they just want to know your history and who you hang around with. I did get some toughness questions, but it's limited what you can say because you don't want to make excuses about film. So you just have to take it. They would show one play and say, 'Do you even like to tackle? Why weren't you tougher on this play? Are you soft?' I just said: "I'm a competitor, I work hard and if you watch all of my film I do hit."
What advice would you give prospects attending this year's Combine?
White: "Have fun. Compete. Don't stress. Don't overthink. Let your natural talents take over."
Grasu: "The biggest thing is just be yourself, and be confident and be positive. The days are really, really long. You'll probably get three or four hours of sleep at most and then you have to go through a whole day of activities. So make sure you stay rested, stay hydrated and get some food in you. And stay motivated. You're there for a reason and it's a good reason."
Amos: "Just have fun with it. It's something to be taken seriously, but once you get to the NFL none of it matters. Once you get in the door, your play ultimately determines the success you have, not where you go, where you get drafted or what people think about you coming out."