Even though Houston's Alief Taylor High School is located in the heart of Texans country, don't be surprised if Bears jerseys start popping up in the hallways or trophy case.
Not one, not two, but three current Bears players were Taylor High School classmates and teammates; tight ends Martellus Bennett and Fendi Onobun were part of the first graduating class in 2005, while defensive end Cheta Ozougwu was two years behind them.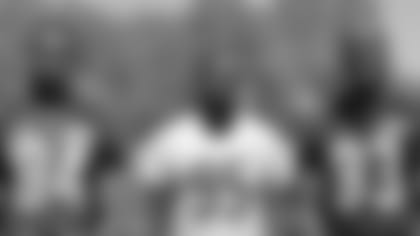 Alief Taylor High School classmates Fendi Onobun (84), Cheta Ozougwu (95) and Martellus Bennett (83) have reunited with the Bears.
"It's pretty amazing," Bennett said. "We've probably got 15 guys on the team from Texas, but to have three guys from the same high school is kind of ridiculous."

Bennett and Onobun have been close friends since meeting as freshmen at Taylor in 2001. They starred on the basketball team together—Onobun didn't play football in high school—giving head coach Jeff Durnford a dynamic 1-2 punch.

"We're a pretty good size 5A high school in Texas, but not a large 5A high school by any stretch of the imagination," said Durnford, who remains the only head basketball coach in Taylor history. "So to have two guys like that with that kind of athletic ability and size is pretty unusual."

Bennett was considered the top college football recruit in Texas and the No. 1 tight end recruit in the nation after being named a consensus All-American. But he also excelled on the basketball court, earning all-area accolades after averaging 23 points and 8.2 rebounds as a senior.

"He was an excellent basketball player," Durnford said. "I don't think he got the credit he deserved in high school for being the basketball player he was. This school has been open 12 years and he is the best basketball player we've had here. Physically, he was a man playing against boys.

"But he was not just a big kid on the floor. He had very good instincts. He was just dominant around the basket. His skill set improved, and by the time he was a senior he could knock down 15-foot jumpers, make some 'threes' and put it on the floor pretty well."

Durnford enjoyed coaching Bennett as much for his fun-loving personality as his athletic ability.

"He had a very good sense of humor," Durnford said. "He was an excellent teammate. He would joke around with the freshmen as quick as he would his teammates. With all the attention some of these kids get, it's easy to separate yourself from your teammates. But he never really put himself above them in any way.

"He's a unique personality, but when the game started and it was time to play he was as competitive as anyone. He knew when to stop playing around and start competing. In high school he really was a nice kid to have around."

Bennett declared for the NBA Draft out of high school, but withdrew shortly before the draft after being advised by NBA scouts that he probably would be selected in the second round.

Bennett opted to accept a scholarship to Texas A&M, where as a freshman he became the school's first athlete to letter in both football and basketball since 1969. He played basketball again as a sophomore before deciding to focus solely on football.

Onobun followed an even more unusual path to the NFL. After high school, he played basketball for four years at Arizona before using a final year of college eligibility to play football at the University of Houston in 2009.

Onobun was selected in the sixth round of the 2010 NFL Draft by the Rams and appeared in three games as a rookie with St. Louis, catching two passes for 15 yards. He had brief stints with the Seahawks, Redskins, Jaguars and Bills before joining the Bears after the 2012 season.

"Fendi is an outstanding young man," Dunford said. "He played basketball at Arizona and has been given an opportunity by NFL teams to play football the last three years. That tells you a little bit about what kind of an athlete he is."

Ozougwu transferred to Taylor as a sophomore when Bennett and Onobun were seniors and played on the junior varsity basketball team. Ozougwu then switched to football full-time as a junior.

Now that the three have been reunited on the Bears, no one is more excited than Dunford.

"That's quite a coincidence," he said. "When you consider that one school has produced three kids who are playing in the NFL, much less on the same team at the same time, that's pretty rare.

"It's fun to see them go on to earn a living playing professional sports. We certainly were blessed to have them here. We enjoyed the time we had coaching them and feel good about what they've gone on to do in their lives professionally."