In the fifth of nine position previews in advance of training camp, offensive coordinator Mike Tice discusses the Bears offensive line with ChicagoBears.com senior writer Larry Mayer:
LM: There's been a lot of debate about the Bears offensive line. Some outside Halas Hall consider it the team's biggest question mark heading into training camp. How confident are you in the unit?
MT: "I feel like we have guys with talent. Unfortunately, some of it is unrealized talent in terms of not enough consistency. We have some young guys who have shown the ability to play at a high level, but some in the run game only and some only in pass protection. What we need from the younger guys is to take the next step and play at a high level with more consistency. But that's what happens when you have young players. It normally takes until the third year of playing full time for a young player to really get in a groove and play at a high level of consistency. So we're looking forward to that with a couple of our young guys and we'll see what happens."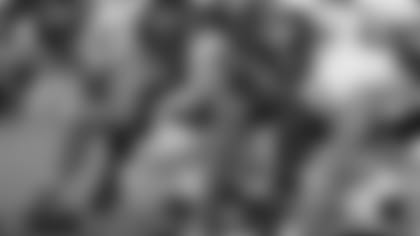 LM: What will be your focus with the line in training camp when the pads come on and contact is permitted for the first time?**
MT: "I thought they made great strides in some areas of emphasis in the offseason. One of those areas was usage of hands. The focus on their hands and hand placement and how they carry their hands higher was very good in shorts. We'll see how that carries over in pads. When you get into pads, you're looking for that technique work that you were able to get in shorts to carry over. Practicing in pads is a whole different world. You really can't get too excited when you're in shorts about any one player, especially with new players that you don't have a background with. With guys you have a background with you can have a little bit more trust in the things you're seeing in shorts."
LM: How would you characterize the competition for the starting left tackle position between J'Marcus Webb and Chris Williams?
MT: "They split all the first-team reps in the offseason and that will continue in training camp. They're going to split the reps down the middle and the winner will be the starter and the loser will take over for Frank Omiyale as the swing guy."
LM: What are you looking for from J'Marcus and Chris in determining who will start?
MT: "I'm looking for the same thing with all the guys: I'm looking for consistency. To be a hit-or-miss guy doesn't help us. We need to know the level of play that we're going to get each week. Is it going to be a Pro Bowl level, a very good level, a good level, a winnable level or not good enough to win? We need consistency in that level of play so we can determine which five guys we want on the field and which other guys we're going to keep as our backups."
LM: What are your expectations for right tackle Gabe Carimi as he returns after missing the final 14 games of his rookie season with a knee injury?
MT: "My expectations are that he's going to be a better player than he was at any point last year, and I thought he was our best player when he got hurt. I'm excited. He's had a great offseason. He looks fantastic. I think he looks better technique-wise. I should give him to the trainers more often because his technique was good when he came back from the injury. They did a nice job with him."
LM: Roberto Garza typically doesn't get a lot of credit. But the veteran center is a very valuable member of the team. How important is he to what the line does?
MT: "He's loyal to the team, to Lovie [Smith], to the organization and to me. He's my mouthpiece in the huddle. He knows the way we want to do things and he's going to try to do them as close to textbook as he can. He's not a wing-it guy; he's not out there doing his own thing. He's out there really buying into what we're selling and trying to lead the group and get the group lined up. He's done an outstanding job. He's a very good player and he's really a key to tying it all together."
LM: Chris Spencer came in and filled a void at guard last season after spending most of his NFL career as a center with the Seahawks. How would you assess him?
MT: "At the end of the day I think Chris will be starting at one of our guard spots. Chris has had a great offseason. He's a good football player, and at times a very good football player. We're happy to have him. He's earned the respect of everybody in the room and in the building. I thought he had a very good year last year and I look for him to have an even better year this year."
LM: What are your thoughts on Lance Louis, who is back working at right guard after starting the final 11 games last season at right tackle?
MT: "Lance is the kind of guy that you hope can reach all the potential he was born with. This is a big year for Lance. I thought going to tackle last year hurt him. He believes he's a guard. I believe he's a guard. He can run. He's powerful. He's got all the tools. He's another player that has to mature mentally and be much more consistent than he's been, but he has a high ceiling. By that I mean he has the ability to be a very good player. But he has to reach that potential."
LM: How would you assess Edwin Williams, who has started for the Bears but has primarily been a versatile backup?
MT: "Edwin is a good football player. He could fill in at any of the three inside positions and we can win football games with him. We have won football games with him. I think he's a better center than guard. His college background was at center. He's thick, he's smart and he's very determined. He wants to do things the right way. He's gotten better and we're really lucky to have him."
LM: What have been your impressions of free-agent acquisition Chilo Rachal, a guard who spent his first four NFL seasons with the 49ers?
MT: "Chilo has worked hard. He's trying to learn to do things the way we want him to do them. There's some inconsistency there, not only with technique but with assignments. He needs to pick it up and show us that he wants to compete for one of the guard jobs. He's certainly going to get a chance. He's got a lot of talent. But we need to see that talent on a more consistent basis. [