Mike Tice expects the Bears offense to play much better Saturday night against the Redskins than it did in last Thursday night's 31-3 preseason-opening loss to the Broncos.
"We were disappointed in the fact that we didn't carry over some of the things we were doing in practice to the game," the Bears offensive coordinator said Monday in his first public comments about the contest. "Yeah, you don't game plan, but nobody really game plans for the first couple of games and maybe the last game of preseason.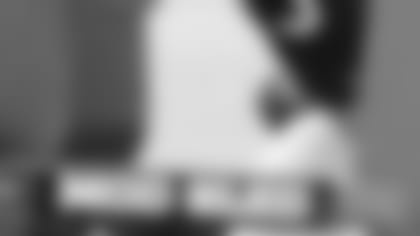 Left tackle J'Marcus Webb did not play as well as expected in the preseason opener.
"But at the same time the techniques—whether it be by an offensive lineman, a tight end, a wide receiver or running back—that you're seeing them do in practice, we want to see those carried over to the game. That's probably the biggest thing coming out of the film."
In the first half, the Bears generated just 41 total yards and three first downs and their only offensive play in Broncos territory resulted in a sack of third-string quarterback Josh McCown.
"I felt like physically we got our butts kicked," Tice said. "It was evident more so with some guys than others. There were some guys that went out and competed with great tenacity; [right guard] Lance Louis for example. I don't think we're going to find that he's going to back down from anybody this season.
"[Right tackle Gabe] Carimi's going to compete, and as his legs come underneath him, more and more he's going to show up on the plus side for us. But I didn't feel that overall as an offense we did enough physically to make any kind of statement."
Even though starting running back Matt Forte didn't play, Tice wasn't pleased that the Bears were able to rush for only 36 yards on 21 carries, a paltry average of 1.6 yards per attempt.
"The biggest disappointment of all was that we didn't run the ball well," Tice said. "I thought from Day 1 of minicamp and OTA days that we were going to be able to run the ball when we wanted to run the ball and we didn't do a good job of running the football."
While most Bears starters exited in the first quarter, left tackle J'Marcus Webb remained in the game into the fourth period. Tice denied that he was trying to send a message to the third-year pro as some reporters had speculated.
"I know some people have said I'm sending a message to J'Marcus," Tice said. "You have to understand how I work. There's no message being sent to J'Marcus. Anything that goes on with the players, they know up front in a meeting.
"They're told how much they're going to play. They're told why there's competition at certain positions. They're told each day where we need to see them improve in what areas. There are no secrets; I don't operate like that. So messages, subliminal messages, there's none of that going on."
Webb will have a second chance to prove he deserves to start Saturday when the Bears host the Redskins. But Chris Williams is pushing him for the job. After practicing at right tackle last week, Williams was moved to left tackle this week in part because Carimi no longer is experiencing knee soreness and the Bears wanted to give first-year pro Cory Brandon some practice reps at right tackle. ](http://www.phoenix.edu/campus-locations/il.html?utmsource=Story&utmmedium=instory&utmcampaign=300x100)
Tice has been pleased with how the line has responded in practice following the preseason opener.
"The guys have bounced back and [had] real physical practices [Saturday and Sunday]," he said. "I think we've gotten better. I was really pleased [Sunday] with Gabe. He looked like the Carimi of last training camp. In the run game [he was] very physical, and I think as he gains confidence in his leg he's going to continue to make great strides for us."
"The game this week is important," Tice said. "Traditionally, I've either played the o-line in the second game to the half or into the third quarter. If you think about it, there are only two positions that play every snap in the [regular season] opener and that's the o-line and the quarterback. So it's very important that we get those linemen some game conditioning."