Charles Tillman is picking up in training camp where he left off last season.
The veteran cornerback intercepted a Jay Cutler pass and returned it for a touchdown on the first play of Saturday's practice and later stripped the ball from tight end Steve Maneri.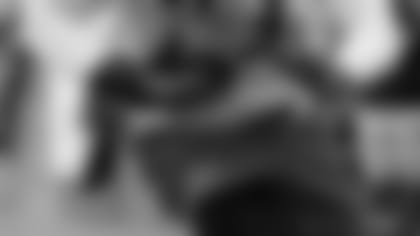 Charles Tillman returns an interception on the first play of Saturday's practice.
Tillman excelled in both of those critical aspects of the game in 2012, setting Bears records and leading the NFL with three interception return touchdowns and 10 forced fumbles.

At age 32, it appears that the 11-year veteran is continuing to improve. Tillman was voted to the first two Pro Bowls of his career the past two seasons-after celebrating his 30th birthday.

"I haven't been around him that long," said first-year coach Marc Trestman. "But if that play today at the start of practice was any evidence of anything but a guy who continues to play at a high level, I don't know what is."

Later in practice, Tillman introduced Maneri to the "Peanut Punch." Trestman described the cornerback's uncanny knack to strip the ball as "like nothing I've ever seen." Tillman has forced 39 career fumbles, the most by any player since he entered the NFL in 2003.

"His ability to create a turnover is unique," Trestman said. "You've got every defensive coach in America watching how he does it, trying to figure out how he can get the ball out the way he does on such a consistent level."

Tillman was a big reason the Bears led the NFL with 44 takeaways last season. It's a feat the team will try to replicate in 2013, led by coaches who place just as much importance on forcing turnovers as Lovie Smith and his staff did the past nine years.

"I've been in the meetings; I know the emphasis there is on it," Trestman said. "I know the pride the defense has had here for so many years. With new players, we have a new team, but we certainly want to stay consistent.

"By doing it in practice, you have guys doing it who have been around it. That's a teaching lesson to the new guys that this is certainly something that is so important. As important as it is to protect the football, at the same time we're trying to create turnovers any way we can."