Charles Tillman was selected by the Bears in the second round of the 2003 NFL Draft (35th overall) out of Louisiana-Lafayette. He was the sixth cornerback chosen, following Terrence Newman (fifth to the Cowboys), Marcus Trufant (11th to the Seahawks) Andre Woolfolk (28th to the Titans), Sammy Davis (30th to the Chargers) and Nnamdi Asomugha (31st to the Raiders).
Tillman played 12 of his 13 NFL seasons with the Bears. He was voted to two Pro Bowls, helped the team win three division championships and one conference title, and was named the 2014 Walter Payton NFL Man of the Year. Fueled by his patented "Peanut Punch," he forced 42 fumbles, including a career-high 10 in 2012.
Tillman also set Bears records with nine defensive touchdowns, eight interception return TDs and 675 interception return yards. His 36 interceptions are the most by a cornerback in franchise history and third most overall behind safeties Gary Fencik (38) and Richie Petitbon (37).
The following is a first-person account by Tillman about his draft experience.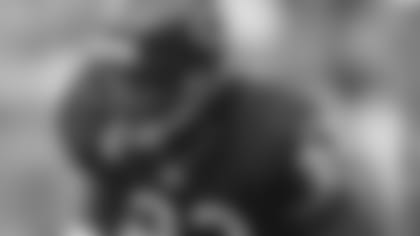 Charles Tillman was the sixth cornerback taken in the 2003 NFL Draft.


I headed into the draft expecting to be picked in the middle-to-late third round because that's what my agent had told me. I didn't pay too much attention to mock drafts, but I looked at them once or twice. No team ever told me anything about where I might go.
I honestly thought I was going to be selected by the Browns because they're the ones who did the most in-depth background work on me. They sent their security guy to my school. He talked to my teachers. He talked to numerous people at the places I'd hang on. He even talked to my landlord at my apartment. So I just assumed I was going to Cleveland. I knew anything was possible, but the Browns were doing the most work so I felt that I might be a Cleveland Brown.
I took three pre-draft visits—to Atlanta, Dallas and San Francisco. They were all basically the same: "Here's our team, here's our facility, here's our weight room, here's our locker room. This is our philosophy. This is what we believe." They fed us and then they sent us on our way.
Entering the draft, I didn't have a preference for any team. I really didn't care who picked me. Honestly, any team could have picked me and I would have loved it.
I had zero contact with the Bears before the draft. They weren't even on my radar. So when they picked me, I was shocked. Seeing my name pop up on the TV like that, you're thinking, "Wow. Is this real? Did that just happen? It worked out. I'm a professional athlete now."
It really made me think about all the hard work that it takes to get drafted, whether you're the first pick or Mr. Irrelevant. Carson Palmer was the No. 1 overall pick that year, and if you think he was happy, I was happy as hell. I was thinking, "Damn, all of my hard work finally paid off!'"
I remember when I got the call from the Bears, [general manager] Jerry Angelo got on the phone. He asked me a couple questions, made sure I was healthy and then said, "Congratulations, we're taking you with our next pick. You're a Chicago Bear."
I turned toward the TV and across the bottom of the screen flashed "current selection, Chicago Bears" followed by my name. Everyone in my house jumped up in this loud roar. Everybody was excited. I had a small party. I didn't want to be the guy who didn't get picked and was embarrassed. So I only had a couple people over. My parents were there and a couple of my friends from college and that was it. It was super low key. There wasn't a camera crew.
I watched the draft at my home in Copperas Cove, Texas. I had been born in Chicago. And a lot of my relatives live there and I came back all the time to visit. But at that time I considered Texas my home. I played high school football there and that's where I lived.
After I got picked, more people started to come by the house. A lot of my old high school teammates came by, and so did my college coach. He congratulated me and wished me luck in the NFL.