When Greg Doltz went to sleep the night before the Super Bowl, the New Jersey paramedic never dreamed that he'd be attending the game between the Seahawks and Broncos at MetLife Stadium.
Doltz and his wife, Tiffany, had planned to watch the Super Bowl at one of her co-worker's houses, where they would participate in a Wii football tournament before the game and then leave at halftime to get their three-year-old daughter in bed at a decent hour.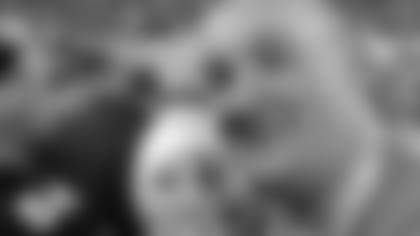 Greg Doltz and his wife Tiffany watched the Seahawks crush the Broncos 43-8 in Super Bowl XLVIII at MetLife Stadium.
But those plans changed after one of Doltz's friends, Neeraj Singh, saw a tweet from Bears cornerback Charles Tillman the morning of the game indicating that he was looking to give two free tickets to Super Bowl XLVIII to a deserving military family.
Tillman was already in New York, where he received the 2013 Walter Payton NFL Man of the Year Award Saturday night at the NFL Honors awards show at Radio City Music Hall.
Singh responded with a tweet informing Tillman that Doltz's brother, Ryan, an Army sergeant, had been killed by an IED (improvised explosive device) while serving in Iraq in 2004. He was 26.
Tillman's wife, Jackie, called Doltz to learn more about his brother and the "Remembering Ryan" foundation the family operates to honor his memory. The organization provides scholarships to students at Dover High School in New Jersey and the Virginia Military Institute, two schools that Ryan attended.
After a few minutes, Jackie asked Doltz if he and his wife wanted to attend the Super Bowl.
"She said they'd like to offer us tickets in memory of my brother," Doltz said. "I thought it was a joke. My friend and I play jokes on each other all the time and I said, 'C'mon, really?' And she said, 'We would really like to have you guys there to honor your brother.' It was amazing. It was definitely a big surprise."
Even though the Seahawks won the Super Bowl in a blowout, Doltz thoroughly enjoyed the experience. When a group of Army Chinook helicopters flew over the stadium just before kickoff, he got a lump in his throat thinking about Ryan.
"My brother always wanted to fly a helicopter," said Doltz, 34. "It kind of hit me hard when they had the flyover because I knew that was something he always wanted to do. Even at his funeral, when they were carrying him out of the church, they had a flyover. It was pretty amazing."
Before being given the tickets, Doltz knew little about Tillman's charitable endeavors. The Bears star was named NFL Man of the Year—the only league honor that recognizes a player's community service as well as his playing experience—due mostly to his work with the Cornerstone Foundation.
Since he created the organization in 2005, his efforts have impacted over one million Chicago-area children and raised more than $1 million.
"I knew almost nothing about it and ever since then I've done a lot of research and found out a lot about what he does," Doltz said. "It's pretty amazing. I started reading about him and now I know why he won the award."
Having grown up the son of an Army sergeant, Tillman is also an avid supporter of the military. He has participated in a USO tour to Iraq, volunteered with the USO of Illinois on Thanksgiving to serve meals to local troops, and provided soldiers with tickets to Bears games at Soldier Field.
"It's amazing that he still thinks about the military and the families and tries to help them," Doltz said. "I would have never gone to a Super Bowl. I don't make enough money to do anything like that. Just the fact that he was willing to give his tickets to somebody was heartfelt.
"If I ever could meet him, I don't know what I'd say to him. I'd probably just give him a big hug and probably start crying because it's amazing what he did."