Pro Bowl cornerback Charles Tillman did not practice Wednesday due to knee and groin injuries, but the Bears are hopeful that he will be able to play Sunday in Detroit.
"He'll be day-to-day," said coach Marc Trestman. "He didn't work today. He was on the side and in the training room. He was in early this morning."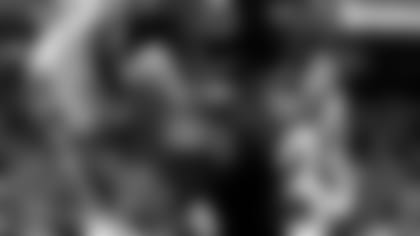 Charles Tillman breaks up a pass intended for Calvin Johnson last season.
The undefeated Bears (3-0) certainly would benefit from having Tillman in the lineup Sunday against the Lions (2-1) and superstar receiver Calvin Johnson at Ford Field.
Last season Tillman limited Johnson to three receptions for 34 yards Oct. 22 in Chicago and five catches for 72 yards Dec. 30 in Detroit, helping the Bears sweep the season series. In Johnson's other 14 games in 2002, he averaged eight catches and 133 yards, ultimately setting an NFL single-season record with 1,964 yards.
"He's a big strong physical corner," Johnson said Wednesday during a conference call with the Chicago media. "He's smart. He's seen a lot of football, so he understands some of the concepts probably that we do on offense, so we've got to throw different things at him to get him off balance.
"He's another great out there; one of the top corners in the league. He definitely does it well, and he's been a consistent player for a long time."
Aches and pains: Tillman isn't the only Bears cornerback dealing with an injury. On Wednesday, Sherrick McManis (quad) did not practice, while Zack Bowman (knee) was limited.
Lions players who did not practice Wednesday were Johnson (knee), receiver Nate Burleson (forearm), safety Louis Delmas (knee) and guard Rob Sims (shoulder). Burleson will not play after breaking his arm in a car accident early Tuesday. Running back Reggie Bush worked out without limitations after sitting out last Sunday's game in Washington with a knee injury.
No slide: Jay Cutler's decision to lead with his throwing shoulder while running over Steelers safety Robert Golden last Sunday night continued to be a topic of conversation Wednesday.
Cutler opted not to slide because he wanted to make sure he picked up a first down. The Bears quarterback ended up gaining 13 yards on third-and-10, sustaining a drive that he capped with a critical 17-yard touchdown pass to Earl Bennett after the Steelers had closed to within 27-23.
"I think if you were at a quarterback orientation you'd hear me say get down as much as you can," Trestman said. "But I also have said to quarterbacks there's going to be a moment a game you have to do what you have to do to keep a drive alive and Jay did that.
"He was concerned about a spot, so he went and decided to do what he did. It's not recommended on a regular basis, but sometimes a quarterback has to do that to be able to get the job done, and I don't think it goes any deeper than that."
Separate entities: The Bears are off to a 3-0 start for just the third time in the last 22 seasons, but Trestman conceded that what transpired in the first three games is not guaranteed to continue.
"Past performance is no indication of future success," he said. "It can't be. You've got to go out every day and you've got to earn it in practice and you've got to do it on Sunday.
"The only thing the past shows us is we have signs, and I said this after the Oakland game that we can be a good football team. But it takes work and you have to compartmentalize each and every week and put your time in. And not only put your time in, but put your heart into your time because if you don't have both, you aren't working. What we are trying to do is just work hard and passionately each and every day and see what happens on Sunday.
"They are separate entities, completely separate, and really nothing in the past is relatable in my opinion other than the fact that we have signs that we can be a good football team, and we've got good people and good character in our locker room to get it done."