As a special teams standout, Todd Johnson made his mark in the NFL on kickoff and punt coverage. He was a fan favorite when he was with the Bears from 2003-2006.
Johnson grew up in Sarasota, Florida, and played college football at the University of Florida under Steve Spurrier and Ron Zook. He was a hard-hitting safety for the Gators and finished his college career with 284 tackles and nine interceptions.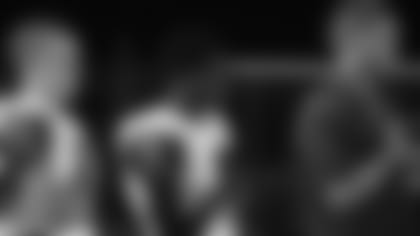 Todd Johnson is preparing to enter his third season as head coach of the Riverview football team.
After his NFL career was over, Johnson decided he wanted to coach football. In April of 2011, he was named the head football coach at his alma mater, Riverview High School in Sarasota.

Johnson followed in the footsteps of a very successful coach, John Sprague, who compiled a 230-98 record over his career and decided to retire after 30 seasons and 15 playoff appearances.

"It's a huge challenge to follow a living legend and to try and get our program back to where it was in the '90s," Johnson said. "Coach Sprague has been very supportive and has been a great friend and resource for me to lean on."

Johnson still enjoys being a part of the game of football and helping shape kids at an early age. He wants them to see that there are bigger things out there for them if they stay on the right track. This fall will be his third season coaching at Riverview and he enjoys being around the team. He likes to see how his players handle the different situations life throws at them. He wants his players to understand that everything may not go their way. The secret is to look for the bright spots in a tough situation.

"No matter what adversity we face we still have to take care of our responsibilities," Johnson said. "Our society has allowed kids to believe that when things get too hard it's OK to quit. It is our job to teach them to finish whatever they start and things might even turn out better than they ever thought."

When Johnson started his career at Riverview High School, he did not have a lot of coaching experience. However, he was a leader on his high school team at Riverview and he was also one of the most vocal players at Florida, where he was a captain as a senior.

"All the great coaches I've had over the years have been great leaders, and when you're put in position to lead your teammates in the NFL there is no faking it," Johnson said. "You have to be able to deal with different personalities and situations on a daily basis, and being a high school coach is no different."

Johnson has not really thought about coaching in college or the NFL down the road. His heart is currently with the kids at Riverview and helping them reach their full potential, sometimes surpassing their own expectations.

Johnson stays in touch with his former Bears teammates and still has a great relationship with Brian Urlacher. Two years ago when Johnson accepted the position of head coach at Riverview, Urlacher congratulated him and told Johnson to let him know if he needed anything.

It didn't take long for Johnson to take Urlacher up on his offer. As he prepared for his first season as head coach at Riverview, Johnson realized he was not going to be able to dress all of his players due to a shortage of jerseys. He mentioned to Urlacher they needed some jerseys and the star middle linebacker ended up getting new Nike home and away jerseys for the entire team.

"Brian has always been a first-class guy and one of the most respected in the locker room," Johnson said. "He'll go above and beyond for those he trusts and respects and I appreciate him helping us out."

Johnson is excited about the 2013 season. His team finished strong last year and he wants to get them back into the state playoffs on a more consistent basis.