Bears general manager Ryan Pace spoke to the media Saturday at training camp to discuss first-round draft pick Kevin White needing surgery. The following is a complete transcript of that conversation:
"I just want to give you an update on Kevin White as we're going forward. As you guys know, it's been a shin injury that we've discussed. Specifically, Kevin suffered a small stress fracture to the lower part of his shin in the later part of OTAs. A lot of times, guys, these stress fractures heal on their own, so that was our plan going forward and that was our hope going forward, which is why we had him stay off it for the summer months.
"So when Kevin returned to start training camp, he was symptom free, he felt good, so no soreness, he felt good, he's ready to go, so we proceed forward with ramping up his strength and conditioning going forward, everything's going as planned, so late last week as we were beginning to get further into the running portion, Kevin suffers a setback, so at this point in time for his long-term future, the best course of action is going to be to perform surgery to stabilize the stress fracture. So that'll ensure a high success rate with this injury. We've obviously studied this procedure. We've got numerous medical opinions throughout the United States, so that's where we're at going forward now.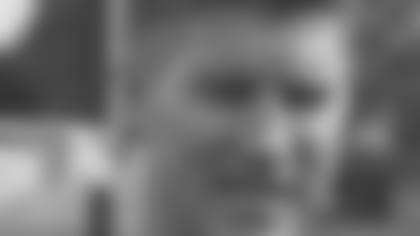 General Manager Ryan Pace
"Kevin will remain on PUP. That gives us the option of bringing him up in the later portion of the season if need be, but I want to state that our whole focus right now is his long-term health. I know he's going to be a great player for the Chicago Bears. I want to make sure that we protect him. He's dying. He's disappointed. He's dying to get out there. I'm focused on his long-term health right now, so I think I can think back to a lot of rookies as you look at the history of the NFL that have had some setbacks and I know this is going to be a blip on the radar as he has a long, successful career.
"One thing I want to say about Kevin is he's disappointed right now. He's dying to get out there. I think you find out a lot about people in adverse situations and going through this process with him, and I mean this from the bottom of my heart, his character, his resolve, his dedication, the type of man that he is has just been more confirmed to me through this process and I really mean that. I'm so glad he's here, I know he's going to be a great player for us, we just have to do the right thing right now to ensure his long-term success, and for us, that's the surgery."
Will White begin the regular season on the PUP list?
"Yes, so he'll convert from active PUP to reserve PUP and then that gives us the option to bring him up in the later part of the season. Honestly, is there a chance that he misses the season? That's a possibility. I want to make sure we do this the right way, not rush him back. Sometimes I feel like you have to protect them from themselves."
What caused the setback earlier this week?
"He's going good, he's going good, we're all optimistic, but as he's beginning to run more and more we noticed a limp in his gait. So we just starting to talk to him and he said the pain had returned. So really guys we had two courses of action. Plan A was, 'Hey, proceed and he should be OK as long as the pain doesn't return.' [And Plan B was] as soon as the pain returns and we start seeing that gait change, then surgery is the most logical option."
When and how did he get injured in the OTAs?
"It wasn't a specific play where I said, 'Aha — there it is.' It was more like, because obviously you guys were at rookie minicamp and beginning part of OTAs — explosive, sudden, we're all fired up. Later part of OTAs we all noticed it on the same day, 'Hey, he's limping.' And as we looked into it further, there's a small stress fracture down there. When we found that, it's like sometimes these things heal on their own; a lot of times they do. So that was our hope and that was our plan and unfortunately this is where we're at now."
Did your pre-draft medical evaluations give any indication he was susceptible to this injury?
"Nothing at all. In fact, a strength of him is his health, was that part of it. There's nothing. Again, when this happened in the later part of OTAs, when Kevin showed up, we're fired up, man. He's everything we thought. This happened in the later part of OTAs."
When will the surgery be?
"We're going over those details now. Kevin, I'm just telling him, let's just think one step at a time right now. We've got a couple of different options who can perform the surgery and exactly when we're going to do it, but it will be in the near future."
What's the recovery time?
"That's a good question. Our head trainer, Nate Breske, is very familiar with this exact surgery and we've done a lot of studies on it. It really lines up for, 'Hey, is it possible with the PUP and the new rules for PUP, the later part of the season?' That's a possibility, but again I just want to take it one day at a time and focus on his recovery and if we get to that portion of time in the season, man, hey, I want to be safe with this. I want to do the right thing for his long-term success."
Who will perform the surgery and are you in charge of that decision?
"It's kind of me, his agent, the player, our trainer, we're all talking. Guys, we probably talked to eight, nine doctors all around the nation on this. So there are a couple of different options right now. We haven't penned in on the specific guy to do the surgery. We'll make our recommendations and communicate with Kevin on that."
What did White do during the time he spent in Nashville with Jay Cutler and some other teammates before training camp?
"Just hang with them. Just chemistry, mental reps. Just take it all in. Right now, I just got done talking to him and he's got his head buried in the playbook. This guy, he's an outstanding player. He's an outstanding person. His focus right now is going to be the surgery, the recovery process and taking in as much mental stuff information as he can. He's already talking to me about making cut-ups on Julio Jones and all these receivers to work on that part of his game."
Is short-term injured reserve a possibility?
"It's been discussed, but with PUP, we can keep him on that all the way until Week 11, late in the year."
The Bears were trying to be so cautious with White. How do you react to this?
"We were being very cautious. This guy's a big commodity for us. To me, it was kind of black and white. If he's having no pain, let's keep on going, let's go, let's build him up slowly. Any type of setback, let's do the right thing here. To me, hey, it's unfortunate, but there's clarity in that this is the surgery that he needs to have and it'll be successful."
What's Alshon Jeffery's status?
"He has a mild calf strain. He's not going to participate versus Indianapolis. But this isn't a long-term injury with Alshon."
So Week 1 won't be a problem?
"No, no. We don't anticipate that."
Will you now aggressively look for a receiver to bring in?
"That's a good question. Obviously, right away, you look at your own roster. There are guys that are going to have to step up and emerge and all those things are going to have to happen. We're confident with that. Just like all these positions, we're going to be scouring the preseason. Whether it's trade scenarios or claims, that part's actually fun as an evaluator, looking forward to that. But right now there are some guys out here that are going to step up, and we feel confident with that."
Why did you protect the specifics of injury?
"For us, it's just, 'OK, let's be specific with the area of the injury. OK guys, it's the shin, we're going to start him off on PUP.' For me, at that point of time, that was enough. Protect the player, competitive reasons; all those things. Not get into nitty-gritty details of every injury that we have."
How disappointed is Kevin?
"He's emotional. I know he sincerely cares about this organization, about his teammates, about coach [John] Fox. It's from the bottom of his heart, and that's why, to me—and I know, this is kind of a weird time to say this—but man, I'm telling you, that guy, it's confirmed to me the type of person that he is, through this process."
When did you tell him he would need surgery?
"I would say the last 24-48 hours have been a whirlwind for him. He's emotional. And he's trying to say the right things and all that But I think he's absorbing it all now and now he just needs to have laser focus on surgery and recovery."
What's the latest with Willie Young as he returns from his injury?
"He's ramping up more and more and he's gaining confidence with each rep. So I feel good about it. You'll see him doing more and more, more and more team, more and more contact, change of direction. Willie's a good pass rusher with length and he's disruptive hitting the quarterback, so we're confident with him."
Was surgery a possibility with White after he sustained the injury in OTAs?
"I knew it was an option, but honestly we were optimistic that this would just naturally heal on its own like a lot of them do. So we were thinking, 'OK, stay off of it. It's going to heal on its own.' And then when he came back, we're like, 'OK, here we go. We're progressing. We're good. Let's stay with our plan.' Any signs of pain, any kind of setback, we need to do this to protect his long term health."
How upsetting is it to you that your first draft pick needs surgery?
"Honestly all my emotions and thoughts right now are just with him. I feel for him because I know how fired up he was. He was like, 'Ryan, I'm visualizing all the things I'm going to do against Green Bay. I'm visualizing all these things.' And I am too. I'm disappointed for him. That's kind of my emotions and thoughts at this point in time."
Are you impressed with his attitude and how he keeps studying his playbook?
"All that. His attention to detail with the playbook, how he is with his teammates, his work ethic through the rehab that we've been going through, the things that he's saying right now ... There are a lot of guys on our league that are selfish and thinks about themselves. Kevin thinks about his team and others and all that. Again, I think you find out a lot about people through adversity and to me it has confirmed all the reasons why we loved him in the draft."
What exactly will be done with the surgery?
"There's a rod that will be put in the tibia to stabilize it. You guys can look; there are a lot of NFL players with that. We've got one guy on our team that has that right now. So it just stabilizes it and it ensures that you're good. You don't have to worry about it again."
Which player on the Bears has that?