Bears players don't have to report back to Halas Hall until Monday. But just like in other businesses, technology will enable them to continue working while they're away from the office.
"We're going to have written evaluations for them on their iPads to give them an opportunity not only to see what they're doing but to give us feedback," said coach Marc Trestman.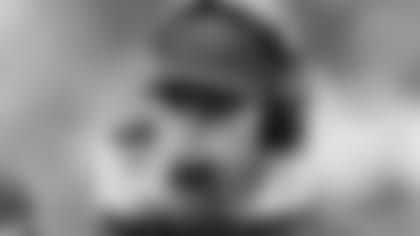 Head coach Marc Trestman and the Bears will focus on self-scouting and the Green Bay Packers during their bye week.
"Our guys know this bye week is not a vacation, and our coaches know it as well. We're bound by the CBA to give these guys a certain time off over the weekend and we're going to do that. But it's not really going to be time off for them or for us."
Bears players will use their iPads to begin preparing for their next game, on Sunday Night Football Nov. 9 in Green Bay. The Packers, who also have their bye this week, have won 10 of 12 meetings between the long-time rivals since 2009.
"Part of their work over the weekend will be Packers work," Trestman said. "We'll have the cut-ups. The Packers stuff is all in because they have their bye week, too, so everything we need to know about them is going to be on tape. We'll be able to get a head-start."
Trestman will also give all of his assistant coaches individual research projects that involve meticulously studying all aspects of the game on a play-by-play and week-by-week basis.
"Those evaluations not only go to how our players are doing things but how we're doing things," Trestman said. "This is the normal protocol, regardless of record, for how bye weeks work. We'll look at our players hard in terms of how they're playing and we're going to let them know."
The Bears hope that the focus on self-scouting will help them rebound from a 3-5 start.
"We've got a chance to look back and really take a systematic look at the issues that we've had and come up with some bona fide solutions," Trestman said. "We weren't able to get it done the way we wanted to get it done over the first eight weeks of the season. There's no doubt about it.
"There's no consistency there. There were moments of very good play, of solid play across the board, and there were moments of very, poor play, like we've seen over the last couple weeks.
With that in mind and the experience that this staff has, we've got to make the most of the next few days in terms of doing a great job evaluating, 'What are we really seeing?' And work from there to come up with some viable solutions and tangible solutions that we're going to give our players."
Although the players will be expected to work during the bye week, Trestman hopes they'll return to Halas Hall on Monday rested, recharged and ready to begin the second half of the season.
"The bye week couldn't come at a better time," Trestman said. "We know we're 3-5 and we're not happy about it. None of us here are; our players aren't, our coaches aren't.
"The only way we can [improve] is to press on and move forward in terms of the things that we can do to get our team better. One of them is to rest and rejuvenate and reboot our minds mentally and rejuvenate our bodies physically and we'll do that."
When players return to work Monday, they'll practice in full pads.
"I told them to be ready to come back in on Monday ready to go," Trestman said. "We're going to have a competitive practice. It won't be as long as our normal practice because we want to be smart about it. But we'll competitively practice and we'll begin to get ready for Packer week."