Although he spent the last five seasons in the Canadian Football League, new Bears coach Marc Trestman isn't concerned about assimilating back into the NFL.
Before joining the Montreal Alouettes as head coach in 2008, Trestman served as an NFL offensive coordinator or position coach with the Vikings (1985-86 and 1990-91), Buccaneers (1987), Browns (1988-89), 49ers (1995-96), Lions (1997), Cardinals (1998-2000), Raiders (2001-03) and Dolphins (2004).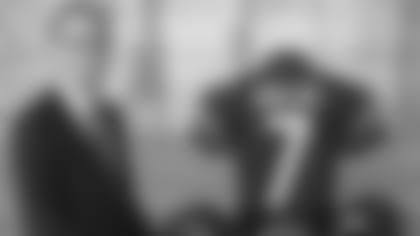 After spending the last five seasons in the CFL, Marc Trestman returns to the NFL with the Bears.
"I haven't been in the league for quite a while, but I was in it for 17 years in a lot of different locker rooms with a lot of different players," Trestman said.

"I went up to Canada and found that leading those men was no different. They were no different than the guys in the locker rooms down here: hard-working and they wanted coaches to help them get better at their jobs.

"They want discipline. The best players want a disciplined football team around them. They want guys around them that are organized, prepare in detail each and every day, know the opponent and want to master their craft. They want coaching. They want to be great."

During his time in Canada, Trestman continued to follow the NFL and keep in contact with former colleagues around the league. He also worked with quarterbacks entering the NFL Draft.

"Over the last few years I spent each and every offseason down south of the border," Trestman said. "The system of football we use [in the CFL] is very similar to what a lot of teams use in this league, and I certainly have identification and connections with coaches down here."

Several Bears players, especially some veterans on defense, were upset that the team fired long-time coach Lovie Smith. But Trestman isn't worried about winning them over.

"I love coaching ball, and I love going into the locker room every day and being around the guys and coaching football," he said. "I love the game, and they are going to feel it.

"As I tell our guys and I've told our guys in the past, we are going to have a team where our players want it more for each other than they want it for themselves. We're not going to have a team that is selfish and undisciplined."

Trestman intends to get the most out of his players by employing a smart work-to-rest ratio.

"You want your players in their minds and in their hearts to know that on Sunday between 12 and 3 or 1 and 4 or whenever that game is played that they're going to be fresh," Trestman said.

"They've got to feel like the coaches are giving them an opportunity to be fresh. So that's the starting point. How can we practice every day like it is the Super Bowl, which we're going to do, and play and be fresh on Sunday?

"Well, that takes some work and the process of doing that is how we practice and how we work, and we'll adapt that. We're going to try to adapt that with the roster size that we have here and the people that we have."