Sunday's 45-41 loss to the Redskins was painful for the Bears, and not only because Jay Cutler and Lance Briggs sustained significant injuries that will sideline them for several weeks.
With Josh McCown playing well in place of Cutler, the Bears rallied from a 38-31 deficit to take a 41-38 fourth-quarter lead only to lose 45-41 on a Washington touchdown with :45 to play.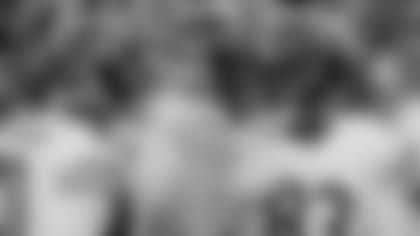 Martellus Bennett gave the Bears a short-lived 41-38 lead with a 7-yard TD reception from Josh McCown late in Sunday's loss to the Redskins.
"It was an extremely disappointing loss," coach Marc Trestman said Monday. "I don't think there was anybody on our sideline yesterday who didn't believe we had a chance to win either on the defensive side of the ball or on the offensive side of the ball.
"I think that all along we felt that our defense would find a way to make the stop—they had before—or our offense would have had a chance to take the ball down and score another touchdown."
Losing for the first time in franchise history when scoring more than 38 points, the Bears allowed touchdown drives of 80, 74, 83, 80 and 80 yards. After not permitting 40 or more points in 59 straight games, they have now done so in two of their last four contests.
Dropping their third game in four weeks heading into this week's bye gives the Bears plenty to think about, especially with their next two games against NFC North rivals Green Bay and Detroit.
"The accountability for the loss starts with me," Trestman said. "Looking forward, how we prepare and the things that we're doing, I'm going to spend some time this week thinking about those things and over the weekend talking about it to the staff; how we can continue to help our football team get ready and play better football because we're going to have to do better."
The Bears failed on Sunday to contain Redskins quarterback Robert Griffin III, who passed for 298 yards and two touchdowns and also rushed for a season-high 84 yards. Trestman was most disappointed with the defense's inability to stop the read-option play.
"We've got a lot of work to do," Trestman said. "We had 10 opportunities to defend the read-zone yesterday and only fitted it up properly two times. We spent a lot of time working on it since OTAs and we're extremely disappointed that we didn't do a better collective job.
"With all due respect to the Redskins—they played a terrific game—but if we would have done our job, if we would have been in the right place, we would have had better results."
Even though they won't see the read-option against Aaron Rodgers and the Packers, the Bears know they must get markedly better at defending it.
"We didn't get it done, and we've got to go back to work on it," Trestman said. "It's not something we're going to have to work on for Green Bay. But certainly down the road it could come up again and we've got to do a better job of handling it."
There was little to complain about on the other side of the ball as the offense generated a season-high four touchdowns, three of which came after Cutler exited in the second quarter.
With McCown under center, the Bears produced 19 first downs and 313 yards in the second half. But the unit mustered only two first downs and 46 yards in the first half, leading Trestman to wonder why the unit continues to be so inconsistent.
"You turn it over to the second half and you're sitting there with 19 first downs and 300 yards and 50 percent on third down and you're working efficiently in the red zone and you don't have to punt and you say, 'Why can't you put two halves together like that?'" Trestman said.
"That's what we have to work on. We still haven't been the offense that can put four quarters together. That's part of the National Football League and working through the season. We've got to do a better job."