There's more than one reason that first-year Bears coach Marc Trestman is happy to have veteran long-snapper Patrick Mannelly still on the team's roster.
"Besides the class and the character that he brings to our locker room, he has a skill level that has allowed him to play a long time in the league," Trestman said of the 38-year-old who has played more seasons (15) and games (231) than anyone in Bears history.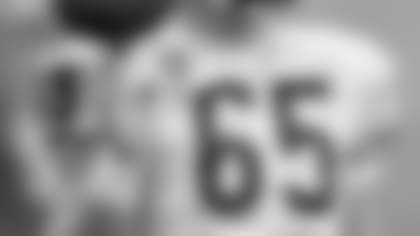 Long-snapper Patrick Mannelly is entering his 16th season with the Bears.
"Plus he has leadership skills and a personality that fits our football team. And the reliability as a player; he's been doing it forever and as the best in the league doing it for a long time, so there's a lot of reasons why we want him here, we want him healthy. He certainly helps a coach sleep better the night before the game when you've got him snapping the football for you."
The only NFL player who was selected in the 1998 draft and is still with his original team, Mannelly was among the players that Trestman spoke with after being hired as coach.
"We talked, as I did with a number of veterans about the lay of the land, the culture of the team," Trestman said. "We did that with a lot of guys that have been around here and tried to get as much information as I could."
Along with most Bears regulars, Mannelly isn't expected to suit up for Thursday night's preseason finale against the Browns at Soldier Field.
But the veteran long-snapper is confident that he'll play in the Sept. 8 regular-season opener versus the Bengals. Mannelly returned to practice Monday for the first time since injuring his ribs while covering a punt in the preseason opener against the Panthers.
A lot at stake for some
While most starters will sit out Thursday night, the preseason finale is extremely important to the fringe players who will get a final opportunity to impress.
"We've got a lot of guys competing, not only to make this team but to compete in the NFL for a position, so it holds a lot, it carries a lot of weight for the guys in there," Trestman said.
"We want the guys who aren't playing to be good sponsors and to help these guys get through the game and battle it out. The Bears are playing in Soldier Field and the Bears' team right now is 70 guys and change, so we want to go out there and bring our best with the guys who are playing and have something at stake.
"They're putting their bodies and their effort at stake right here against another team doing the same thing so there will be something to get out of this game and it'll carry some weight."
Rookies bonding in basement
On Tuesday, Trestman paid a visit to the Bears rookie locker room, which is located in the Halas Hall basement.
"I just wanted to see how they were doing," Trestman said. "It's a good set up and the guys are close. They've bonded down there. There's some good communication and a lot of life down there. It was good to see that when I went down there."
Rookies who earn a spot on the 53-man roster will join veterans in the main locker room Monday. While Kyle Long, Jon Bostic, Khaseem Greene and Jordan Mills are locks to make the team, fellow rookies such as Cornelius Washington, Marquess Wilson and Michael Ford also have a shot.
"We're excited about [the rookie class]," Trestman said. "We've all watched it, those of us who have been at training camp and through the OTAs and through the preseason. We have to be excited about the possibilities that we have here with all of our first-year guys."