When Marc Trestman introduced his assistants to the media Thursday at Halas Hall, the new Bears head coach described them as excellent instructors with good communication skills.
"We're excited about this staff that we have," Trestman said. "We've got a great group of men that are tremendous teachers. They're guys that are great people with great people skills."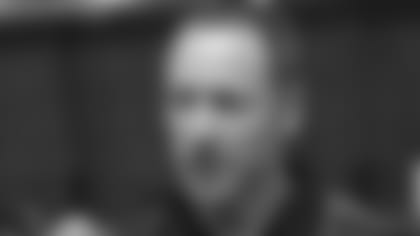 Bears offensive coordinator/offensive line coach Aaron Kromer speaks to the media Thursday in the Walter Payton Center.
Trestman has filled 16 of 17 positions, needing only to hire a wide receivers coach to complete his staff, something he hopes to accomplish sooner rather than later.

"We've got one more coach to hire and we're going through a process and I'm hopeful that will be resolved in the very near future," Trestman said. "But we need to get the right guy who's the right fit for us and we're the right fit for him."

Trestman's three coordinators—Aaron Kromer (offense), Mel Tucker (defense) and Joe DeCamillis (special teams)—boast a combined 45 years of NFL experience.

From 2001-03, Kromer worked on the same staff as Trestman with the Raiders, including in 2002 when Oakland led the NFL in total offense and reached the Super Bowl.

Kromer, who will double as offensive line coach, spent the past five seasons with the Saints, coaching running backs in 2008 before working with the offensive line/running game from 2009-12. In his four seasons tutoring the line, New Orleans sent five linemen to a combined nine Pro Bowls and tied for the fewest sacks allowed in the NFL with 96.

"I knew Aaron very well because I coached with him in Oakland and it was an opportunity like this that he needed to grow as a coach," Trestman said. "The No. 1 thing as a play-caller is you feel like you're hip-to-hip with your line coach, and in this case the coordinator, because Aaron and I will be involved in play-calling as we move through game scenarios. We have a great understanding of each other in what has to be done starting with protection, the run game and in the passing game."

Tucker spent the last five seasons as defensive coordinator with the Browns (2008) and Jaguars (2009-12). He served as Jacksonville's interim head coach for the final five games of the 2011 season and returned as defensive coordinator on Mike Mularkey's staff in 2012 while adding the title of assistant head coach.

"I didn't know Mel when we interviewed him," Trestman said. "He came highly recommended and after speaking with him—not even talking football for a couple hours, just talking to him in general about his personal life and ideologies and philosophies and how he dealt with players and how he wanted to present himself to the team—I thought he was exactly in the right place at the right time.

"And then once I got into the meeting room with him and [holdovers] Jon [Hoke] and Mike [Phair] and the new guys on the staff, I felt completely confident that he was exactly the right guy for this job. He's got tremendous potential as a leader, and his abilities to teach are as good as anybody I've been around."

DeCamillis has spent the past 25 years as a special teams coordinator with the Broncos (1988-92), Giants (1993-96), Falcons (1997-2006), Jaguars (2007-08) and Cowboys (2009-12).

"He comes well recommended and with tremendous experience," Trestman said. "We've got extremely experienced guys in all three areas."

Trestman's first two priorities since becoming Bears coach have been assembling his staff and reaching out to players. He estimates that he's called about two-thirds of the roster.

Trestman met briefly with quarterback Jay Cutler, but the collective bargaining agreement prohibits coaches from working with players until April. Teams with new head coaches can start their offseason programs the first Monday in April, but the first two weeks are limited to strength and conditioning drills.

While coaches can't work on the field with players until the third week of the program, Trestman expects to have his playbook completed well in advance of that.

"Once the players get back here for the third week of April, we'll certainly be ready to go," Trestman said. "We have a timeline that will allow us to be finished much in front of that so we can take a look at the completed product and go through it as a staff sufficiently so that when we present it to our players it'll be clean in all aspects, from the the terminology to plays to numbering system and things like that.

"We've given ourselves a good amount of time, but we have a sense of urgency to get it done as soon as we can to get it in their hands so they have a chance to preview it before they come in."

Trestman is eager to begin working with Bears players.

"I'm optimistic just talking to the coaches, scouts and people in personnel about not just the quality of football player we have, but the type of people in our locker room, and that's the most exciting part," Trestman said.

"This is a really good locker room of people that love football. They're going to work hard, and we're just excited as a staff to get in there and looking forward to April when we can get with our players and get a chance to really spend some time with them, get to really know them and get to talk some football with them as well."