If anyone other than the Bears were playing the Redskins Sunday, coach Marc Trestman probably would be pulling for Washington running back Alfred Morris to have another good game.
The quintessential underdog, Morris was selected by the Redskins in the sixth round of the 2012 draft out of Florida Atlantic and proceeded to rush for 1,613 yards and 13 touchdowns as a rookie. This year he's 11th in the NFL in rushing with 377 yards and three TDs on 72 carries.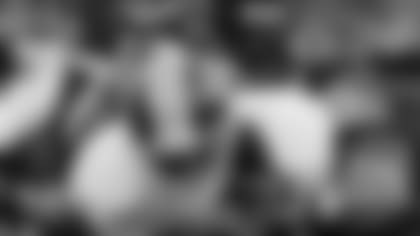 The Bears will have their hands full with running back Alfred Morris on Sunday.
"I really like Alfred Morris," Trestman said. "I think he's 'everybody's back' in terms of a guy you're always rooting for as a fan. We're not going to be rooting for him on Sunday obviously, but [he's] a guy who found a way to make it to the National Football League and sets the tone for what it means to be in the league with the way he plays.
"He plays hard, he plays fast; he's a relentless player. From a league standpoint, he's everybody's dream come true in terms of growing up and wanting to play in the league."
In last year's season finale, Morris helped the Redskins clinch the NFC East title by rushing for 200 yards and three touchdowns on 33 carries in a win over the Cowboys. This season he gained 107 yards on 13 attempts in a Week 2 loss to the Packers in Green Bay.
"He's not an easy guy to tackle," Trestman said of the 5-10, 218-pounder. "He's low to the ground, his pads are down, he runs hard and he's got enough speed to generate explosive running skills. We've got our work cut out for us there."
Natural leader: One of the most polarizing athletes in Chicago sports history is no longer in the spotlight. But the Redskins are very pleased with how third-string quarterback Rex Grossman has mentored second-year passers Robert Griffin III and Kirk Cousins.
"Rex is a great guy, a natural leader," said Redskins coach Mike Shanahan. "He did a good job for us when we didn't have a lot of depth and a lot of talent. I just like the way he handles himself. When he does play, he's played well."
Grossman was selected by the Bears in the first round of the 2003 draft out of Florida. He compiled a 21-14 record as a starter in six seasons, throwing for 6,164 yards with 33 touchdowns, 35 interceptions and a 70.1 passer rating. He helped lead the team to the Super Bowl in 2006.
"Experience is one thing you can't buy and he's experienced a lot throughout his career, from Super Bowls to everything in between," Griffin said. "Rex has been a great guy to have on this team. He's a great locker-room guy, a great meeting-room guy, and he has really helped me with how to handle a lot of things."
Don't be deceived: Don't try to convince Lance Briggs that Griffin isn't the same player who took the NFL by storm as a rookie last year before tearing up his knee in a playoff loss to the Seahawks.
The Bears linebacker saw Griffin revert to last year's form last Sunday night when he rushed for 77 yards in a loss to the Cowboys. Griffin, who ran for 815 yards and seven touchdowns in 2012, had compiled only 72 yards on the ground in the first four games this year.
"That burst looked pretty good," Briggs said. "Don't be deceived. Don't be deceived at all. He's playing better and better each week. Watching him in that second half against Dallas, I saw him pull away from some guys running the ball, so he's ready."
Gould standard: If Robbie Gould makes his first field goal attempt Sunday, he will surpass Nate Kaeding as the second most accurate kicker in NFL history behind only Mike Vanderjagt.
Gould has converted all 10 of his field goal tries this season, including a Bears-record 58-yarder, and is now 218 of 253 (86.2 percent) in his career. He needs to make his next six kicks to eclipse Vanderjagt, who made 230 of 266 (86.5 percent).