Brandon Marshall has voiced his frustration following losses to the Lions and Saints the past two weeks. But Bears coach Marc Trestman doesn't think the receiver has been a distraction.
"He has been great," Trestman said. "As far as meetings [and] on the field, he has not been any kind of distraction from my standpoint. The biggest difficulty I've had is seeing him work through a foot [injury] and work through the hip [injury] during the OTAs. But not at all. He really has not."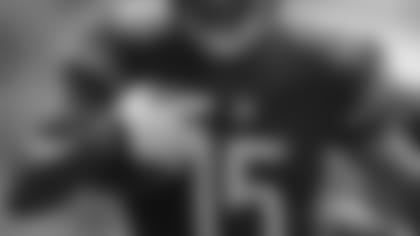 Wide receiver Brandon Marshall set Bears single-season receiving records last year with 118 catches and 1,508 yards.
Jay Cutler completed 24 of 33 passes for 358 yards in Sunday's loss to the Saints, but Marshall had just four receptions for 30 yards, though he did catch a late 2-yard touchdown.
"He was good on the sidelines in every way," Trestman said. "It was difficult obviously when you're the play-caller for him to be not as productive as he was because we want him to be. But Jay's just reading the coverages and going to the guys who are open."
While Marshall was targeted five times against the Saints, Cutler threw 13 passes to Alshon Jeffery, who had a career-high 10 receptions for a Bears-record 218 yards and one touchdown.
It was only the second time in Marshall's two seasons with the Bears that another wide receiver was targeted more. The only other time it happened was last season in a Week 2 loss in Green Bay when Cutler threw six passes to Earl Bennett and five to Marshall.
After Sunday's loss, Cutler explained that the Saints were paying extra attention to Marshall.
"They weren't going to let him have a good day," Cutler said. "They were doubling him in the slot. In the red zone they were doubling him up over the top. They decided, 'Hey, it's not going to happen.' They were going to take him out of the ballgame. He still made some plays for us. He might be frustrated, but we just have to keep getting better and better, and he understands that."
Cutler hasn't sensed any frustration in Marshall's dealings with his teammates.
"He's been a real pro with the guys in the locker room with Alshon, Martellus [Bennett], Earl, all those guys," Cutler said. "He comes to work every day. He was a little banged up last week. Those other guys got a few more reps.
"We know we're going to get his best effort on Sundays. It's going to come. You can't keep doubling him and letting another receiver go for 200 yards. It's silly to keep doing that. He's going to get his. He's going to have to keep trusting us and he's been great to work with so far."
Marshall feels that he should make plays even if he's being double covered.
"I've got to do a better job of making myself quarterback-friendly so I can try and make a play for our offense," Marshall said. "We're struggling a little bit. As a receiver, you always want the ball because you think you can help the offense move the ball down the field."
After the Saints game, Marshall insisted that his frustration stemmed primarily from the Bears suffering their second straight loss following a 3-0 start. In seven NFL seasons, he has been voted to four Pro Bowls but has never played for a team that has qualified for the playoffs.
"The frustration comes when we're not winning and the offense isn't moving the ball," Marshall said. "It has nothing to do with me. I want to win. I've always said I have a nice contract, been to Pro Bowls, made All-Pro. I want to win. Sometimes the formula may go to me, sometimes it doesn't. Whatever's best for the team to win, that's what we need to do."
Speaking to the media Tuesday at Halas Hall, Marshall conceded that he hasn't been happy with his production.
"If you pay a receiver $10 million, for them to be OK with not being productive, get out of here," Marshall said. "If I'm a coach or an owner of a team some day and I'm paying a receiver that much money and he's happy and he's not complaining or communicating with me about wanting more, he's got to go."
Trestman sees Marshall as the ultimate team player, one who brought Jeffery down to his home in Miami to work out together during the offseason and who helped convince Martellus Bennett and linebacker D.J. Williams to sign with the Bears in free agency.
"Brandon has done as much for this team over the last seven months that any single player has," Trestman said. "He recruited Martellus. He took Alshon down to Florida and taught him how to be a pro and get his body right so he could go the distance and play the way he's playing right now. I mean, he's shown extremely unusual leadership. I think a lot of that goes unsaid.
"He is the prototypical great receiver who wants the football and should want it, but he's handled himself in a very professional manner. He's been a little frustrated, but not as much outwardly. You just sense that knowing that he wants the ball and we're going to continue to try to get him that the way we did in the first month of the season."