After a two-week introduction to the Bears' new offense in the classroom, Mitchell Trubisky had a chance to take it for a test drive for the first time during this week's three-day minicamp.
"It was a lot of fun, just to be out there with the new guys—the staff, the coaches and the new players—getting this new offense and really progressing each day, getting better," the Bears quarterback said Thursday after the third and final practice.
"There are going to be mistakes out there on the field, but we just want to play fast—next-play mentality—and continue to learn the offense, get to know these guys, build chemistry and try to continue to pick up this playbook as quick as possible."
Although Trubisky and his teammates have yet to delve too deeply into the playbook, he likes what he's seen so far from a system that's being installed by first-year coach Matt Nagy and offensive coordinator Mark Helfrich.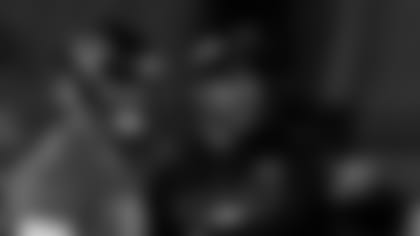 Head coach Matt Nagy talks with quarterback Mitchell Trubisky during a minicamp practice.


"We're really just going through the basics," Trubisky said, "but I've talked to Nagy and there are just so many layers to this offense and what we can do—plays off plays—and the intricacies of each play and how we have so many options within each play.
"The decisions I have at the line of scrimmage and post-snap and pre-snap are going to give us a lot of options, and then we've just got to continue to use our personnel and the talent we've got on offense to spread the ball around and be an explosive offense. It just comes down to execution, learning this new playbook and believing in the system, and everyone has so far, so it's been exciting."
Trubisky has enjoyed learning from Nagy, who has been lauded for his work with quarterbacks the past five seasons as a position coach and offensive coordinator with the Chiefs. Last year in Kansas City he helped Alex Smith lead the NFL with a career-high 104.7 passer rating while throwing for 4,042 yards and 26 touchdowns.
"Coach Nagy's awesome," Trubisky said. "Every day you can feel the excitement and the energy he brings and you can hear the passion in his voice and how he talks about things. I get a really genuine feel when I'm around him. He's very authentic. He's real.
"He's rallying the troops and we're all buying into his plan. We're all very excited to play for him. We had three great days. We've just got to keep it rolling from there. He's put a great staff together and I'm excited to learn from him and everyone else as we move forward."
Trubisky is surrounded by individuals he can learn from in Nagy, Helfrich, quarterbacks coach Dave Ragone and backup quarterbacks Chase Daniel and Tyler Bray, both of whom know the system having played under Nagy with the Chiefs.
"I feel like these last three days I've been coached more than I ever have because I have coach Helfrich, coach Ragone who was here last year with me, coach Nagy, and then I come off when it's not my reps and I talk to Tyler, I talk to Chase," Trubisky said.
"Just having a bunch of brilliant offensive minds around me, I'm getting a lot of information. I'm trying to be a sponge, and it's been a lot of fun working with those guys and learning as much as I can these last three days."
Told by a reporter that Nagy had said Trubisky possesses an "immense focus," the quarterback nodded in agreement.
"That's a good [term]," Trubisky said. "I have immense focus. I know a lot more than what I did last year, but I definitely don't know everything. Just being where I am now, I'm trying to learn as much as possible, staying focused on the task at hand.
"I'm very excited about what this team potentially could do and what we have going forward. You don't want to waste these opportunities. Just being immensely focused every day, [I'm] getting the most out of each day and each rep, each meeting, trying to be the best you possibly can. I'd be doing myself and my teammates a disservice if I wasn't immensely focused every day.
"It's a sweet [term]. That's what I'm trying to do. It's a lot of fun, and I love it. I couldn't be happier to do it every day with a bunch of guys I care about in this locker room."