When quarterback Mitch Trubisky runs out of the tunnel and onto the field for his first NFL game Thursday night, he expects to experience a range of emotions.
The Bears first-round draft pick is expected to work with the No. 3 offense in the preseason opener against the Denver Broncos at Soldier Field.
"I'll be excited and anxious to get out there on the field to show what I can do," Trubisky said Tuesday, "mostly to prove to my teammates why I'm here and what I can do and just go out there and do my job and have fun. That's why we play football, to have fun and go out there and enjoy it and I'm looking forward to it."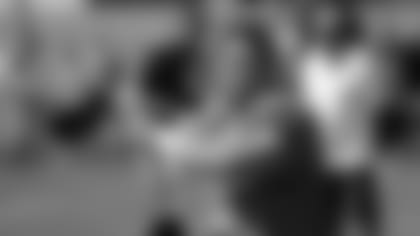 Bears quarterback Mitch Trubisky warms up before a recent practice in Bourbonnais.


Trubisky made his debut performance at Soldier Field last Saturday at the team's annual Family Fest practice. On one possession in a live scrimmage with the third-string offense, he completed 3 of 6 passes for 42 yards to set up a field goal. Trubisky's best pass was a 19-yard bullet to rookie receiver Tanner Gentry on a skinny post.
"It was good to get into some game-like situations just like a natural drive," Trubisky said. "I overcame some penalties when I was in there and just moved the ball down the field. You want to finish in the end zone, but we took care of the football and finished with points. That's what you could ask for and next time finished in the end zone."
Trubisky hopes to build on that performance when he faces the Broncos Thursday night. Asked what he hopes to accomplish, the second overall pick in the draft said: "Just play great situational football, control the game. Each time I'm in there with my teammates just show command at the line of scrimmage, drive the ball down the field, be efficient, pick up first downs and hopefully finish in the end zone a couple times. It's all about taking care of the football, going out there having fun and doing my job."
Thursday night's game will be the first time that Trubisky can be hit; quarterbacks are off limits to contact during practice, even in otherwise live drills.
"I'm ready to get hit just to get that over with," Trubisky said. "That's the hard about quarterbacks is we're sitting back there in the pocket and we can't really get a good feel in practice of when we need to get out of there, when we need to move on, when we might have been sacked.
"You see a couple of plays throughout practice where a big play happens, but the defensive end might have had you down, might have gotten the ball out. So it'll be good to play live on Thursday and to know when you need to move on and what you've got to do, because we don't get hit in practice. I'm anxious to just get back to real football."
As Trubisky learns an NFL offense for the first time, his comfort level continues to grow with each passing day as he gains a firmer grasp of the system.
"I feel very comfortable just going out there each day," said the North Carolina product. "We had another big install day a couple days ago, so I'm just trying to digest that and rep those plays for the first time and get it down. But the stuff we put in last week I feel really good with it, and obviously the more you rep stuff the more comfortable you get with it. I feel pretty good about everything right now."
Trubisky appears to be excellent at dissecting different aspects of his game and the progress he's making on the practice field. He proved that Tuesday when he was asked to identify something he's satisfied with and something he needs to improve.
"I would like to see improvement in my footwork," Trubisky said. Sometimes I go back to my college footwork just because that's second nature. I'm just continuing to take coaching and what they're talking about the footwork and the more I do that the more I can stay within the offense, be in time with the progressions and all that.
"I've been pleased with how well I've been able to pick things up, just command in the huddle with all the calls at the line of scrimmage, getting the protections set and getting us in the right play so we're able to move efficiently. I'm really just trying to put it all together each day and improve on mistakes each day."
Trubisky had an up-and-down practice Tuesday. He connected with Gentry for a long touchdown pass but was intercepted by safety Deiondre' Hall on the final play due to a miscommunication between the quarterback and a receiver.
Trubisky believes that's important to learn his mistakes by watching them on film, seeing what went wrong and not repeating the miscue in the future.
"It sucks," Trubisky said of being picked off on the last snap of practice. "The rest of my day will not feel as great since I ended practice that way. But I got extra throws after practice to improve other parts of my game.
"Everyone throws picks. That was just a mistake and it was a simple mistake. It's not something to dwell on. I know if we got on the same page I could throw it in the right spot and that could have easily been a touchdown. That's how football is; a small mistake can go the other way for you. So you just fix those things, move on and learn from it."