Before heading home to Ohio for a few days during the Bears' bye weekend, Mitchell Trubisky watched every single one of his pass attempts from his first four NFL starts on tape.
Since replacing Mike Glennon as the Bears' No. 1 quarterback a month ago, Trubisky has completed 38 of 80 passes for 512 yards with two touchdowns, two interceptions and a 66.3 passer rating. He has also rushed for 110 yards on 15 carries.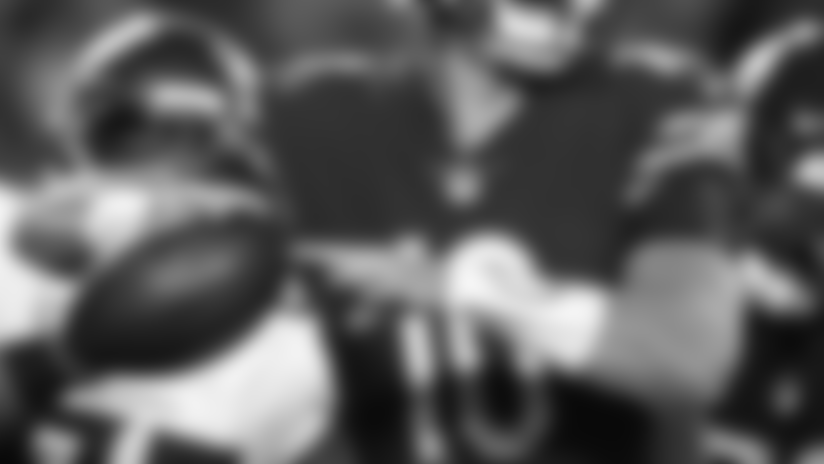 Bears quarterback Mitchell Trubisky looks for a receiver during his first NFL start Oct. 9 against the Minnesota Vikings.


"I just need to be more efficient and continue to take care of the football, but be aggressive at the same time," Trubisky said. "Make more plays for this offense while playing within the offense and being myself and continue to be a leader."
Trubisky is focused on improving his fundamentals, which will lead to more accurate passes.
"When my feet are right and my eyes are right, I'm on the money," he said. "But when I change up or do the wrong footwork or my base isn't good because of the rush in the pocket, that's usually when the inaccuracies occur. Just continue to work on my base and my footwork and doing the right drops and have my eyes in the right spot and I'm usually on the money."
Trubisky acknowledged that the Bears need to score more points. Over the past three games, the offense has mustered just one touchdown on its last 27 possessions.
"We just need to score more points," Trubisky said. "You've seen us moving the ball. We just have to continue to not make mistakes and finish with points. We just need to score more."
Trubisky revealed that members of the Bears offense spent the last few days watching every pass attempt from the first eight games of the season on tape.
Asked what conclusions he drew, the Bears quarterback said: "We had a higher [completion] percentage in play-action passes and [quarterback] keepers. A lot of the incompletions were throwaways, but we can just be higher percentage in those areas and continue to be better on third down. We've been pretty good on drop backs and we just need to keep getting better in the red area to finish with points."
Some help appears to be on the way in recently-acquired receiver Dontrelle Inman, who is expected to play when the Bears return to action a week from Sunday against the Packers at Soldier Field. Inman was acquired in a trade with the Chargers last week, but he was inactive last Sunday in New Orleans because he had only practiced once leading up to the game.
Trubisky is eager to continue building a rapport with the 6-3, 205-pound receiver, who has appeared in 41 games with 23 starts the past four seasons with the Chargers.
"We're already working in practice and after practice," Trubisky said. "We need to continue to rep those routes and it'll come. He's got a big frame and he runs really good routes, so he's a guy to throw to. He's very ball savvy, so just continue to rep that chemistry along with the other guys and we're going to continue to get better."
Trubisky is also continuing to develop cohesiveness with receiver Tre McBride III, who had just one reception for 18 yards in four games this season before catching three passes for a game-high 92 yards last Sunday against the Saints.
"It's not like we've been throwing together for a long time, so we still need to build that chemistry [and] get on the same page," Trubisky said. "Once we really start to know each other, know where I'm going to put the ball, know where they're going to be in the routes, then you'll start to see more explosive plays in the offense and we'll just start rolling."