Three days into training camp, rookie quarterback Mitch Trubisky has a much firmer grasp on the Bears offense than he did during the offseason program.
"My comfort level is so much better than OTAs and rookie minicamp and all that," the first-round draft pick said Saturday. "I feel like I know the plays. I can picture it. It's all about taking the next step and having total command in the huddle, at the line of scrimmage, getting my 'mike' keys, changing protection based on rotation; all that stuff."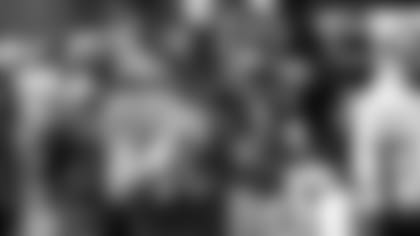 Quarterback Mitch Trubisky drops back to pass during a training camp practice.


The Bears traded up one spot in the draft to select Trubisky at No. 2 overall, the franchise's highest pick since 1951 when Notre Dame quarterback Bob Williams was also chosen second. Trubisky arrives after setting North Carolina passing records last year in his only season as a starter with 447 attempts, 304 completions, 3,748 yards and 30 touchdowns.
Trubisky is spending his first NFL training camp adjusting to the pro game. After working almost exclusively out of the shotgun in college, he's now taking direct snaps from center. At North Carolina, Trubisky lined up and called protections based on signals from the sideline. With the Bears, protections are called in the huddle and can be changed at the line of scrimmage.
"It's really all different," Trubisky said. "There are some concepts that are similar. All the terminology is different, and probably what's hardest for me is just getting used to being in the huddle and then breaking the huddle and having to go through my pre-snap responsibilities."
Trubisky should have plenty of time to master those adjustments given that the Bears intend on grooming him this season as their quarterback of the future while starting veteran free-agent acquisition Mike Glennon. Like the rest of his teammates, Trubisky is competitive and wants to play. But he understands the situation.
"I have to respect the plan that they have in place, and I have to believe in that, so that's what I'm doing," Trubisky said. "We've got a great quarterback room. Mike, Mark [Sanchez] and Connor [Shaw] have really all been helping me with everything I need—the mental side of the game as well as preparation going into practice and staying on top of the plays and all that.
"For me, it's just control what I can control, get better every day and believe in the plan that they have in place. It's all about winning games for the Bears. They have a plan. We've just got to believe in it and execute it."
Trubisky was in a similar situation when he arrived at North Carolina, redshirting as a freshman. And although he didn't play in a game that season, he learned a valuable lesson.
"No matter what, don't take any days off," Trubisky said. "Practice as if you're the starter no matter what. That's how it should be for anyone in the quarterback room and the whole team. Redshirt year or not, you've got to keep getting better because when you're called upon, you've got to be ready to rock and roll."
Trubisky's development in training camp is being aided by virtual reality technology the Bears are employing with their quarterbacks.
"It's really helped me a lot," he said. "I'm really surprised what that technology has allowed us to do. Instead of just watching film, you're actually getting reps without your body having to go through it. Using the VR has been a lot for me, especially calling plays in the huddle.
"I call the play, go out and practice it and coach can see on the screen where my eyes are going, so it's helped me with progression and timing without actually going onto the field and having to do it. I can do it in the film room with the VR."
The Bears are hoping that Trubisky one day becomes the face of their franchise. But when he's around his veteran teammates these days, he's wisely adhering to the old adage that rookies should be seen and not heard.
"I know my place," Trubisky said. "I'm the rookie, so anytime they ask for something, I try to do it as fast as possible and just being there for them. It's just a level of respect I have for them.
"Especially when they're helping me so much on the field, in the meeting rooms, when they ask me to do the rookie duties, it's not a problem at all. I appreciate them helping me out. It's just part of your career. Everyone's a rookie at some point; you've just got to do it."