Costly mistakes by the Bears defense led to two key Packers touchdowns in Sunday's 33-28 season-ending loss to Green Bay.
The first came on a bizarre play late in the first half when Julius Peppers hit Aaron Rodgers' arm a split-second before the quarterback threw downfield. The ball came loose, but because it traveled forward, players on both teams assumed it was an incomplete pass. But no whistles had blown and Packers receiver Jarrett Boykin scooped up the ball and dashed 15 yards for a touchdown.
[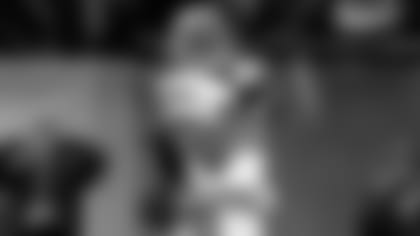 ](/multimedia/photo-gallery/Bears-vs-Packers/07a20d49-fa6a-4298-b0e9-83cc748e0479)

Randall Cobb hauled in a 48-yard touchdown from Aaron Rodgers with 38 seconds left to clinch the victory for the Packers.
**Click to view photos from the game.**
Bears coaches teach defenders to pick up all loose balls in practice—even incomplete passes—so coach Marc Trestman couldn't fathom why that didn't happen Sunday.
"We talk about that all the time," Trestman said. "There's never been a time the whole year where I've blown the whistle in practice and the ball is on the ground that we didn't pick it up and scoop and score with it. So for me to try to explain why that happened, I really can't at this time because we never allow the ball to sit on the ground like that at any time in practice."
Bears linebacker James Anderson was among those who assumed that it was an incomplete pass.
"We all thought it was a dead ball," Anderson said. "That was why everyone kind of stopped. It was a big play. We need to make sure that we hear the whistle. I thought I did [hear the whistle], but I don't even know initially if anyone else knew that it was a live ball.
"We preach turnovers, so any time you get a chance to get the ball, you want to try to get it. I don't know what everyone else saw, but you did see an arm coming forward and you assumed dead ball. But you have to play to the whistle."
An even costlier miscue led to Green Bay's winning touchdown. Trying to protect a 28-27 lead with :46 remaining, the Bears sent an all-out blitz after Rodgers on fourth-and-eight at the Chicago 48. But he calmly drifted to his left and lofted a TD pass to a wide open Randall Cobb.
A mix-up in the Bears secondary left Cobb uncovered on the play.
"We had a little miscommunication, but we had an opportunity as a defense to make a play," said cornerback Tim Jennings. "We brought it, but that was Aaron Rodgers being Aaron Rodgers. He found an open receiver down the field and that was definitely what it was.
"Every guy has to be held accountable for what their job is, and we just didn't get it done. I think we blitzed everybody. We need to make a play in the back end. We can't allow that."
The play was reminiscent of a 53-yard touchdown pass from Peyton Manning to Reggie Wayne that the Bears yielded due to a blown coverage to the Colts in Super Bowl XLI.
"I actually had a hook route about 10 or 12 yards," Cobb said, "but I saw that the safety was flat-footed, so I just threw my hands up and stayed on the move, and Aaron was able to find me."
Trestman explained why the Bears blitzed on the play.
"The thinking is we can sit back in zone and give him the opportunity to make a play, or we can try to make him rush the throw," Trestman said. "We had good pressure on. [Fullback Jon] Kuhn just got an edge, just got a piece of [Peppers] and Aaron was able to slip outside.
"It's not easy to go to your left and make a play like that and he did. What can happen if a quarterback breaks contain in a zero blitz like that, it leaves a lot of field for any defender to have to cover."