It's more than just a coincidence that general manager Phil Emery described both free agent defensive ends the Bears signed this week as aggressive, versatile, physical and tough.
Lamarr Houston (Raiders) and Willie Young (Lions) were targeted due to their similar traits and their potential to help revamp a Bears defense that struggled mightily in 2013.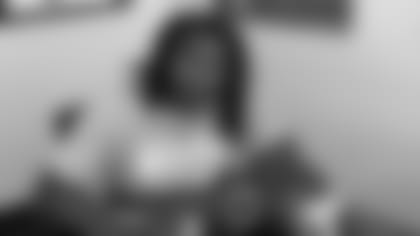 Defensive end Willie Young signs a three-year contract with the Bears Thursday at Halas Hall.
Young, who signed a three-year contract Thursday, is eager to pair with Houston, who inked a five-year deal Wednesday.
"He's a very aggressive guy," Young said. "I would say we have somewhat of a resemblance as far as our mentality. He's a hard-nosed guy [who is] not afraid to stick his nose in the run game [and] knows how to get after the passer. He's a very dominant player.
"I'm very excited about lining up next to him at some point and making the best of the opportunity I have. I don't see offenses being able to slide one way or the other based on one player not being able to play up to expectations. I think we're somewhat similar.
"Offenses are going to have to figure out some kind of way to stop two guys who are coming off the edge with no intentions other than to harass quarterbacks."
A reserve during his first three seasons with the Lions, Young  blossomed while starting for the first time last year, recording 47 tackles, three sacks and seven tackles-for-loss. He lined up predominantly at left end. But, like Houston, he can play either side.
"I pride myself on being a versatile player," Young said. "Since my first day in the league, I've
found myself bouncing around just trying to keep my head above the water, and perseverance was my key. It came down to wherever I fit in, and I had to make the most of my opportunities.
"Whether that required me dropping or dropping back into coverage or rushing the passer or stopping the run, I just made myself available for the team and whatever was needed."
Still in the process of adding and subtracting players, the Bears have yet to decide whether Young will play left or right end. But regardless, they're confident that he'll help improve the defense.
"He just gets after it," Emery said. "He's got really good pursuit or on-the-hunt instincts to get around the ball and get involved in plays as both a pass rusher and a run defender.
"He's really an old-school player. He's a tough, physical player who has really learned to use his length. This is a long football player. He's got 35-inch arms. He uses that advantage to gain leverage and separation. He's got strong hands and a good punch."
Young displayed those attributes last year in his first season as a starter. He concedes that it wasn't easy spending his first three seasons biding time behind veterans Cliff Avril and Kyle Vanden Bosch.
"Early on it seemed like it was just taking forever for an opportunity to come around," Young said. "Definitely times got tough. I had a defensive coordinator like Gunther Cunningham who pushed my buttons day-in and day-out, but one thing he said was: 'You're going to learn to love me.'
"The stuff he put me through made me a tougher player from the day I came into this league to this point now, where I'm with a team that thinks highly enough of me to bring me in and be a part of this organization."
Moving forward, Young can't wait to start working with Houston and the rest of his new teammates.
"I'm excited about the whole deal," Young said. "I'm excited to be here and I'm looking forward to a very aggressive defense here in the making. Right now there's nothing to stop us other than ourselves."