Hall of Famers Steve Young and Jerry Rice flourished while playing for Marc Trestman with the 49ers during the mid-1990s and believe that he'll excel as Bears head coach.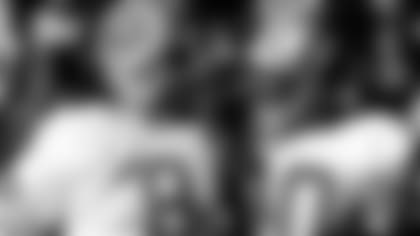 Hall of Famers Steve Young and Jerry Rice posted big numbers in two seasons with Marc Trestman.
Trestman, who was named the 14th head coach in Bears history on Wednesday, spent two seasons as San Francisco's offensive coordinator and quarterbacks coach.
In 1995, the 49ers led the NFL with 457 points and 4,779 passing yards. Young threw for 3,200 yards and 20 touchdowns, while Rice set a franchise record with 122 receptions and a league mark that stood until it was broken by the Lions' Calvin Johnson this season with 1,848 receiving yards.
In 1996, Young led the NFL with a 97.2 passer rating and Rice topped the league with 108 receptions as the 49ers went 12-4 and made the playoffs for the fifth straight year.
"He was an offensive innovator at that time, a great game-day play-caller," Young said Wednesday on ESPN. "But he's grown into the ability to actually be an orchestrator of a whole organization. This guy is ready. More than anybody, he's mature and experienced. It's time for Marc Trestman to be a head coach in the NFL, and I'm very excited for him."
"This is an exceptional hire for the Chicago Bears," Rice added on ESPN. "He's an offensive-minded coach. He's a great play-caller. He's a guru when it comes to quarterbacking."
Those familiar with how Trestman has helped NFL quarterbacks such as Young, Rich Gannon and Jake Plummer hone their skills and become better players think that he'll have a similar impact on the Bears' Jay Cutler.
"You bring in offensive innovation," Young said. "You bring in somebody that understands the quarterback position who can teach it intricately and then also just have that game-day play-calling expertise and I would hope that [Cutler] would have the humility to say, 'I've played a while in the league, I can get better and this is the platform to go find out how good I can really be.'
"Take a step back, let somebody who truly understands the position and can teach it [provide that instruction]. Accept it, take it as a positive, and take it as a challenge because Jay Cutler has every ability to be in the top three, four or five quarterbacks in the league. Marc's that kind of guy that can get all of Jay Cutler's potential out of him."
Like Young, Rice thinks that Cutler will benefit from working with Trestman. After posting an 87.1 passer rating in three seasons with the Broncos, Cutler has recorded an 81.9 rating while working with three different offensive coordinators in four years with the Bears.
"I think you're going to see a different quarterback, a guy that pretty much when he steps on the football field he knows exactly what he wants to do," Rice said.
"Marc Trestman is right up there with Mike Holmgren and Mike Shanahan. [The Bears] got an exceptional coach. [Cutler and Trestman] are going to build a relationship. I think it's going to be very similar to [Colin] Kaepernick and Jim Harbaugh [with the 49ers]."
"Marc Trestman is a very smart coach. He knows how to get next to this guy and bring out the best in him. I think with Jay Cutler, he just needs that type of relationship with a coach and that's going to bring out the best in him."