Every summer, multiple members of the Bears organization help round up the necessary things the team will need for its time at training camp, held at Olivet Nazarene University. There are the obvious items on the packing list: footballs, cleats, pads, helmets and uniforms for the players; computers, notepads and whistles for the coaches; team merchandise and paraphernalia that can be sold or handed out to fans.
But the nearly 100-mile journey south on I-57 from Halas Hall in Lake Forest to ONU in Bourbonnais involves a whole lot more than that. Along with the 90 players on the training camp roster and 21 coaches on the Chicago staff this year, there are approximately 150 other members of the organization that make the trek every year to training camp, which this season runs from July 27 to August 10. Several departments within the organization take their work on the road for that period, and collecting everything they need for that time occasionally can be a bit of a challenge.
A stack of shoulder pads sit inside the moving trucks.


Take for example the issue Clyde Emrich had a few years back. Emrich, the Bears' longtime strength coach and a former Olympic weightlifter, currently works as an administrator for the team and building operations staff. Among his many tasks is coordinating the packing of exercise equipment for training camp. When it came time to take everything in the team's weight room in Lake Forest onto the moving truck for it to be sent to Bourbonnais, Emrich realized some complications. Putting all of the weights, treadmills, bikes and other workout tools was both extremely time-consuming and expensive. So he searched for a smarter way.
Teaming with Brian McCaskey, Chicago's senior director of business development, and Dan Yuska, the team's business development coordinator, as well as ONU administrators, Emrich and the Bears found an alternative to the heavy and costly process of packing and unpacking the weight room every summer. In 2014, the team helped finance the purchase of new, state-of-the-art equipment to be housed in the university's fitness center, a mutually beneficial move that made camp packing easier for everyone.
"We figured out the cost savings if we just purchased new weight equipment with Olivet and just left it there for them to use when we're gone," McCaskey said. "It's been a huge savings for us and a benefit to the school. And it furthered our partnership in working together with the school, because we are always looking for things that will both help the school and help the Bears."
The purchase made packing a bit easier for the team, but the list of what comes with the team down to Bourbonnais is still lengthy and complex. Having everything in order for the time away takes months of coordination and planning, but it allows every member of the Bears organization to do his or her job exactly as they would if they were still in the office at Halas Hall.
The packing list
In March, with snow often still on the ground, NFL free agency in full swing, and the draft still weeks away, Emrich, McCaskey and Yuska begin their preparations for the upcoming summer's training camp. At that time, Emrich begins mapping out room assignments for Bears players, coaches and staff members, while an individual within every department of the organization starts compiling a list of what they will need for the weeks down at ONU. Each part of the club needs different amount of time to prepare and get ready, so there are varying start times around Halas Hall for the video team, equipment managers, IT, fan services and other departments.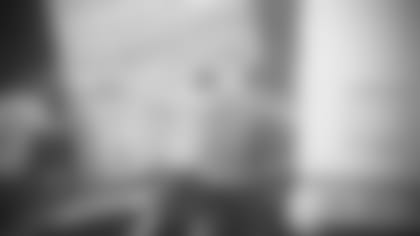 Equipment staff lifted a large assortment of cleats onboard.


The team is also in constant communication with their peers at ONU to oversee anything they may need to bring that is different than the year before, or changes at the university that may impact camp. All three men have done this before – 2016 will be the 46th camp that Emrich has worked as a member of the Bears, the 34th for McCaskey and 16th for Yuska. With nearly a century worth of experience under their belt, the three men know what it takes to get everything packed up and brought down to camp.
"Experience is invaluable in an operation like this," Yuska said. "The continuity between our team here, what we do, and the continuity that ONU has with us and the Bears staff, our counterparts who we work with. We just had a change on the ONU side prior to our camp prep beginning this offseason, but we commend ONU for picking up where he left off."
Every year presents its own unique challenges in terms of packing and setting up training camp. Last summer was the first camp under new head coach John Fox and his staff. Every coach likes doing certain things their own unique ways, so that meant adjusting when practices began, figuring out which coaches would meet in certain rooms on campus and other logistical items. Emrich said that now that he knows how Fox likes things done, this year's camp was easier to prepare for in that sense.
A different summer, the Bears packed up everything in Lake Forest, per usual. When staff members unloaded one of the trucks down in Bourbonnais, they found that a surfeit of skunks had taken up housing in the goalposts, an issue that had to be dealt with prior to the first practice of the summer.
By starting the work early to ensure they are well prepared, to go along with the experience they have, the Bears employees in charge of packing for training camp are ready for every obstacle they may face.
"I don't think a lot of people recognize the infrastructure behind meeting rooms and classrooms and our IT network – that's all vital," Yuska added. "We have to have everything broken down here at Halas Hall, our video guys and IT department do an excellent job of that, they set up that network and make everything work just as if we were here, but they are making it work for 90 players, 21 coaches, and close to 260 Bears staff total."
It's good to get away
It used to be that nearly every NFL team went away for training camp, but that's no longer the case. In 2016, only 11 of the 32 teams are leaving their everyday practice facilities to train somewhere else. The Bears are one of those 11, and the organization sees traveling for camp to be an important for players, coaches and fans.
A view of the watertower in Bourbonnais.


Despite the complexities of packing everything up for three weeks away, there is tremendous upside to leaving Halas Hall and training at ONU. The university has four full grass fields the team is able to train on, as opposed to the two-and-a-half fields that are available in Lake Forest. A 168,000 square foot student center opened in 2012 on the Bourbonnais campus, giving the team spacious meeting rooms and facilities needed for all of the off-field work that is involved with camp. And most importantly, the team likes to be able to connect with the loyal fans from all across Illinois and the country that come every year to watch their favorite team play.
"Camp is a great touch point for our fans," McCaskey said. "We have tens of thousands of fans that come through the gates every day. And I think the players enjoy that, it's a way for the team to bond and come together.
"For players and coaches, it's a way to get away and focus. Get away from family and friends and just be in an environment where they focus on football. Training camp is such an important launch point for the regular season. Given the new rules of the CBA, we haven't seen these players since mid-June, and then we'll see them all again at the end of July for the first time. So it's a starting point for the season and it's a long season."
The first truck departing Halas Hall for ONU departed on July 20, with many more trips back and forth to follow. By the time the first practice whistle is blown on the morning of July 28 to kick off Fox's second training camp as coach of the Bears, everything the team and organization needs will have been transported and set up just right. Every player, coach and team employee will be able to do their jobs perfectly, just as if they were back at home.
It's important for us to be on the same page, because you have all the players, coaches, staff, interns – all the things that go down to training camp, it has grown to I think 260 people just from the Bears side, that doesn't even include people from the Olivet side," Emrich said. So it's quite an endeavor to get everybody credentialed up, housed, where they are going to work, where they are going to meet, it's quite an undertaking. But it's all worth it in the end."