The Kyle Long Bears fans see on the field is focused and determined. The one who exists away from the limelight is the same way - but with a different focus and determination.
The hero
From a distance, the Foot Locker on Ashland and 69th St. in Chicago appeared to be like any other shoe store in any other mall. "Energy" by Drake blared from the stereo speakers on this sunny Saturday afternoon, as employees in black and white striped shirts helped kids try on sneakers. Parents scoured racks of clothes looking for the right size tees for their sons and daughters. As checkout lines formed near the register, other customers waited patiently to try on the latest LeBron James Nikes and fresh New Era snapbacks.
Yet upon closer look, the business didn't resemble most others. A muscular security guard posted at the door was the first indicator there was something different going on inside. The presence of photographers and cameramen, who were sprinkled around the store, added to the different vibe. In fact the shopping experience was stopped momentarily when a manager from a nearby restaurant announced to the crowd of nearly 100 people that if they brought their Foot Locker receipt into his diner, they were entitled to a discounted meal.
For more than an hour, Bears running back Matt Forte casually stood in the middle of it all, shaking hands and smiling for pictures with anyone who approached him. Dressed in gray sweatpants and a black tee, Forte looked as comfortable in this environment as he does running for the Soldier Field end zone. The frenzy in the store was his doing; through a partnership with Nike, Forte handed out Foot Locker gift certificates to 50 Chicago Public School students just three days before the first day of class. Later that afternoon, the running back hosted a Back to School cookout, where 50 other children would get a backpack loaded with supplies and a new pair of sneakers. On one of the last days off before his eighth professional season was set to begin, Forte was using his time to give back to others.
"My rookie year, my first three or four years in the league even, you wouldn't find me doing anything like this," said Forte, who turns 30 in December. "I'm less selfish as a man. I give my time to others…. I give a lot of time to my family as well as the community, which needs the help. So I've grown a lot since my first time coming to Chicago."
The fact that Forte was doing this event in the Englewood neighborhood of the city's South Side was not a coincidence. Nor was it random that his charity outreach involves education. For as focused and determined as Forte is on the field, making plays with a number 22 across his chest, he has that same drive in his personal life, looking to make a difference in the city he's adopted as his own.
The motivator
Nearly every Saturday this summer, Forte spent his time in Englewood coaching a flag-football team. Partnering with The Noah's Arc Foundation, founded by Chicago Bulls center Joakim Noah, the running back would visit a park and work with local youth, teaching them the fundamentals of football. The visits were about more than just winning and losing games, or giving instructions on the proper way to throw a spiral. Forte was also teaching the kids about playing for a team, being a leader, showing maturity and the value of hard work.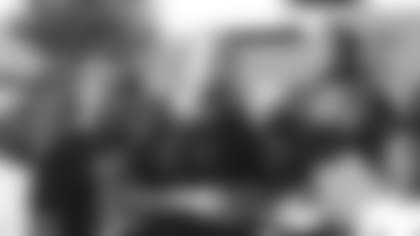 "It means a lot, because a lot of people wouldn't come down to talk to us, a lot of people wouldn't even care to talk to us," said Quiondre Collins, a 19-year old Englewood resident who frequented the running back's Saturday visits. "You know what? I've seen this guy so many times on my Saturday morning that I thought he was from Englewood."
The neighborhood, and several that surround it, have seen their fair share of trouble. It is no secret that parts of Chicago are among the most dangerous places to live in the entire United States. In Englewood and neighboring West Englewood alone, there were over 250 reported shooting victims in the first nine months of 2015, according to data from the Chicago Tribune.
For parents and children alike, the presence of a successful athlete everyone can look up to is a welcome one. Deborah Ellis was one of the mothers inside the Foot Locker at Forte's event. Wearing a white Bears shirt, Ellis said she loved rooting on the running back every Sunday when he's playing for her favorite team. But she also loves the example Forte is setting for her son and other kids in Chicago.
"To me, it symbolizes that he wants to give back to support people," Ellis said. "Not a lot of people honestly take out the time to just give back. It's hard to find someone with the heart who really cares for African-American kids. Especially in society today, with all of the killing and the shooting and everything else, he still finds something positive to do. It's truly appreciated.
"I myself, as a mother, really appreciate it. Not that I wouldn't be a Bears fan anyways," she added with a laugh.
Lots of kids around the city look up to Forte, and the running back takes the job of role model seriously. He wants to lead by example, showing Chicago's youth that it is possible to be successful in athletics while still focusing on education. During his regular Saturday tips to Englewood, Forte would stress the importance of going to school and making it to college. Those were values that Forte's parents and youth coaches instilled in him when he was growing up in the New Orleans suburb of Slidell, Louisiana, and the impact of those lessons have never left.
"Matt understands that to whom much is given, much is required," Adisa Bakari, Forte's agent, said at the charity event. "He understands how much of a blessing it is to play in the NFL, so every chance he gets, he wants to impact his community."
Forte credits the place where he came from for helping make him the man he is today. With his platform, he can make a difference for the youth of his new place of residence.
The hard worker
Wayne Grubb first met Forte when the running back was 15, and the thing that stood out most was his maturity. Grubb, then the head football coach at Slidell High School in Slidell, Louisiana, saw a kid who had his teammates' respect, but wasn't a cheery, rah-rah type of person. Instead, Forte led by example, showing up every day to practice and workouts with an interest in improving.
In the summer time, after a long day of grueling workouts in the Louisiana sun, most Slidell players went home. Forte stayed late on the field, running extra sprints and stadium steps to improve his conditioning.
The work paid off. Though Forte was not a high school All-American or four-star recruit when he played for the Slidell Tigers, he was a good player, rushing for 1,057 yards in his junior year while also hauling in 30 receptions. That was enough to warrant the attention of Nick Saban, then the head coach at LSU. Located 90 miles west in Baton Rouge, Forte wanted to play for those Tigers after finishing at Slidell. Saban had room in his 2004 recruiting class for one running back, and Forte wanted to be that back.
"Matt had his mind made up early, he was going to play Division-I football," Grubb recently recalled. "He was a very mature teenager who was committed to his goals. That's one of the things that made him such a terrific leader for our team. Everyone knew they could rely on him."
When Forte's senior season began, he had no scholarship offers. Tulane, realizing they had a skilled player in their own backyard, finally made him an offer in the fall of 2003. McNeese State, when Forte's older brother Bryan played linebacker, also wanted him. Saban and LSU, however, never bit. The coach did sign one running back, Jacob Hester, a physical runner out of Shreveport.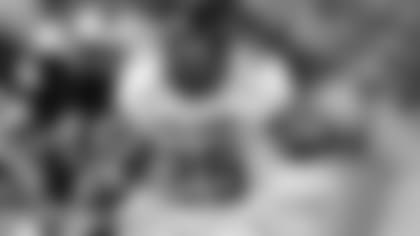 Forte had a strong senior season at Slidell, rushing for 1,375 yards and scoring 25 total touchdowns. He earned second-team all-state honors and ended up accepting the scholarship from Tulane, where he was a record-setting player for the Green Wave. In 2008, after earning his degree in finance from the university, the running back was a second-round draft choice of the Bears.
Forte left Louisiana at that time, but Louisiana never left Forte. The problems he is mentoring young people through now are similar to the issues he dealt with as a child.
"Chicago does remind me a little bit of New Orleans and Slidell as an area," Forte said. "Slidell is a lot smaller. New Orleans is a big city, but it's a lot smaller than Chicago.
"Still, there's a problem going on with crime and kids killing kids, so we have to educate ourselves and just do better as a people, as a whole in the United States. And just stop doing all the wrong things in the world. We have a lot of stuff to worry about, more than just violence and all the stuff that goes on in school. So we have to do better as people. As an athlete that kids look up to, I definitely have to motivate them to do that."
The influence
As a player, few in the NFL have the all-around skillset of Forte. The work ethic he honed on the stadium steps in Slidell has stuck with the running back, combined with tremendous skill and versatility. In 2014, Forte set an NFL record with 102 receptions, the most-ever for a running back. In Week 1 of 2015 against the rival Packers, he ran for 141 yards, including 105 in the first half, the fourth time during Forte's career he's eclipsed the century mark in a game's first 30 minutes.
Forte was voted by his teammates to be one of Chicago's captains this season. In that season-opening game versus Green Bay, he was joined at midfield by a few familiar faces. Two kids from Englewood who played flag football with Forte every weekend during the season were named honorary captains for that contest by the Bears.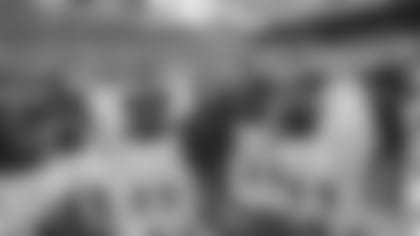 The running back's lead-by-example style has helped him succeed as a football player and gain the trust of teammates, at every level of the game he's played. It has also helped him grow a strong group of followers. Collins, who was one of the two people selected to be a Bears honorary captain, said that Forte's influence has helped him become a better person who wants to create more positive change in his neighborhood and city.
"I look up to positive people," Collins said. "All my life I've been around negativity, and you can't look up to that. That's not something to look up to. You want to be better than the negativity.
"We don't have people who care, who want to see us succeed. We have people who want to see us be down at all times. That's why I respect Matt so much, because of what he does. And I know it's out of the kindness of his heart, because that's dedication."
Making sure the youth of Chicago have a chance at success is what drives Forte's off-field work. It's not about glory or recognition, but instead creating change. He feels it is important to be honest with kids. The facts are that most people will not grow up to be football players, so an education should be a top priority.
"Knowing that I'm a role model, I'm also real with them," Forte said. "It takes a lot of hard work, but at the same time, I had a backup plan. I had a finance degree from Tulane. So when your athleticism fails you or God may not have in the plans for you to be an athlete, that's when you got to have your education to back you up. And you have to be educated to play football anyways, you got to learn playbooks and read defenses and all kinds of stuff."
In Englewood and other neighborhoods around Chicago, Forte is a difference-maker. The attention may not always be there, but that's exactly how the running back likes it. With every big run he has on the field, or every appearance he makes at a seemingly inconspicuous shoe store, Forte is focused and determined to make a positive impact.
Learn more about the work Matt Forte is doing in Englewood and all around the city of Chicago through his What's Your Forte? Foundation. Click here to learn more and to donate.