As D'Onta Foreman powered through the Raiders defense snap after snap last Sunday, carrying the ball 16 times for 89 yards, fellow Bears running back Darrynton Evans experienced déjà vu.
Each of the three times Foreman crossed the goal line, Evans got flashbacks of his time with the veteran back in Tennessee, specifically the 2021 season when Foreman fueled the Titans offense after three-time Pro Bowler Derrick Henry suffered a foot injury.
"I remember once Derrick went down and he was the main man, seeing him pop off in games and do his thing, it brought me back to that," Evans said. "Those are the conversations we always talk about like 'bro, you've been in a situation where you had to wait your turn to get back into it and go. And once you got your chance, you made the most of it.' Then when he's talking to me, he's like, 'bro, just learn from me.'"
Evans sees a lot of himself in Foreman, specifically how the veteran has navigated an NFL career full of both challenges and successes. The pair first met in 2020 when Foreman signed to the Titans' practice squad in September and Evans was a rookie, drafted by Tennessee in the third round out of Appalachian State.
Both players served in backup roles to Henry, with Foreman appearing in six games and Evans playing in five, giving the pair the opportunity to grow close in the running back room. Evans is grateful for how Foreman took him under his wing that season, taught him "the ropes of how to be a pro" and helped him understand and respond to adversity.
""The main thing is always being prepared for opportunity," Evans said of what he learned from Foreman. "We were playing behind Derrick, who ran for 2,000 yards my rookie year, so you're not seeing too much burn, but you gotta stay patient and always stay ready. That was the main thing he always taught me in Tennessee — just be ready for your opportunity. It's gonna come and make the most of it."
When Foreman began mentoring Evans, the veteran was heading into his fourth NFL season, but had played in just 11 games, all with Houston. Most of those appearances came as a rookie in 2017 as Foreman spent most of the 2018 season returning from an Achilles injury and missed the entire 2019 season due to a torn biceps.
Enduring so many setbacks early in his NFL career, Foreman knew he wanted to turn those hardships into a positive influence for someone else.
"At that time, I had already started having my trials and tribulations and going through certain things in my life," Foreman said. "I just wanted to keep [Evans] level-headed, try to push him in the right direction [because] some guys didn't give me certain pointers or help me in those types of situations where I had to learn for myself. Just wanted to be a great teammate but also someone who was there for the younger guys."
When Foreman rejoined the Titans in November 2021 to fill in for the injured Henry, he didn't see much of Evans, who spent most of that year on injured reserve with a knee injury. The pair remained close, though, with Evans cheering Foreman on while the veteran totaled 566 rushing yards and three touchdowns on 133 carries in nine games that season.
Even when the two parted ways in 2022 — Foreman headed to Carolina and Evans signed with the Bears — they kept a strong relationship, always checking in on each other after big moments.
This past August, they reunited when the Bills — who Evans spent time with in training camp — traveled to Soldier Field for a preseason game against the Bears.
"It was like when you see a family member you haven't seen in a while at a family reunion," Foreman said. "You're like, 'man, my guy, what's going on?' It was that type of vibe, so it was good seeing him, good having him here."
Just over a month later, Evans learned he'd be re-joining the Bears following injuries to running backs Khalil Herbert and Roschon Johnson in Week 5 against Washington. Evans hit up Foreman with a simple message: "hey, see you soon."
After being released by Buffalo Aug. 29, Evans was at home without a contract waiting for a call, before joining the Dolphins practice squad for the first five weeks of his fourth NFL season. Understanding how mentally taxing that situation can be, Foreman was ecstatic for Evans' new opportunity.
"I was happy for him," Foreman said. "I've seen his trials and tribulations. I've seen his injuries and the things he's had to battle through. He's always been someone who I've watched from afar, just his progress and the things he's been through. I'm just proud of him. So seeing him come back here was great just to have a guy that I've been around and a guy that I built a relationship with."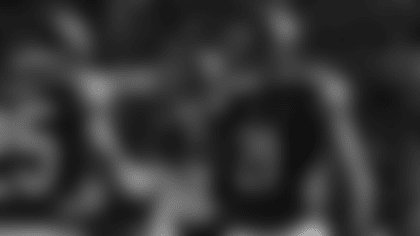 Two weeks ago against the Vikings, Foreman made his first start as a Bear and Evans appeared in his first game this season. Together, they rushed for 97 yards on 24 carries, helping the Bears tally 162 yards.
The established relationship between Foreman and Evans allowed for seamless transitions on offense for both players throughout their first game back. Bears fullback Khari Blasingame, who also spent time with Evans and Foreman in Tennessee, said that bond "helps a lot" on the field and shows up in the pair's complementary run styles.
"When you talk about D'Onta, he's physical, he's bigger than people think, so it takes a lot to get him to the ground," Blasingame said. "Darrynton, he's that burst of explosiveness. He's also hard to bring down. They both run super hard, so I would say [they complement each other]."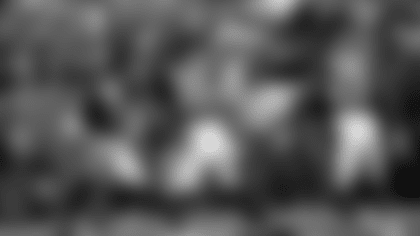 Foreman and Evans were back at it last Sunday during the Bears' Week 7 victory over the Raiders at Soldier Field. While the biggest offensive storyline was Foreman's three-touchdown performance, the Bears' run game was fueled by both backs, ultimately producing 173 yards on the ground.
Foreman said it was "a great feeling" having Evans – who he describes as a "really selfless person" — by his side during his career performance.
Foreman and Evans' consistency over the last two weeks isn't a surprise to either player. The pair believes their chemistry as teammates and friends allows them to communicate well and root for each other's successes.
"I think one thing it's always been is always wanting to see everyone in the room succeed," Evans said. "That's just kind of how it's always been since I first met him. So once he's in the game, it's, 'hey, go make a play,' On the way out, "OK, I'm about to go match that.' Throughout the game, you see a play and I'm like, 'bro, you could've scored on this one if you would've did this.' I come to the sideline, he's like, 'next time, try this.'"
While both Foreman and Evans have dealt with the waiting game several times throughout their careers, they've learned how important it is to appreciate the game and make the most of each chance they get.
"I think it's a testament to our hard work and just us wanting to dominate when we get our opportunities," Foreman said. "He's battled injuries, I've battled injuries. I've been through trials and tribulations. He's been through trials and tribulations. So I think just being able to get those opportunities, we just want to cherish them as much as we can and be as productive as possible."